Roberto Martinez is to leave Wigan and head for Everton talks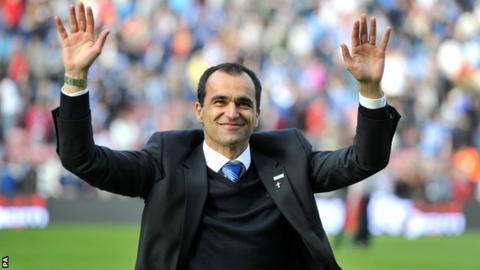 Roberto Martinez has been given permission to leave Wigan and will now hold talks with Everton about succeeding David Moyes.
The 39-year-old Spaniard led the Latics to a historic FA Cup triumph this season but could not prevent their relegation from the Premier League.
Wigan chairman Dave Whelan said Everton contacted him last Friday to ask for talks with Martinez.
"Roberto wanted permission to move. So I've given that," added Whelan.
"He feels he's not the man to lead us back into the Premier League. I've got to accept what he feels. He loves Wigan and the fans. We have to move on now and want applications for the job."
Whelan told BBC Radio 5 live on Tuesday afternoon: "Roberto has resigned. We are going to release him." However Wigan later released a statement saying Martinez remained their manager but had been given permission to talk to another club.
Whelan also said that Martinez has 12 months left on his contract, so "whoever comes in for him must pay the remainder of his contract".
Everton are searching for a new manager following the impending departure of Moyes to Manchester United. The Scot is due to take over officially at Old Trafford on 1 July.
Whelan suggested earlier this month that Goodison Park would not be a likely destination for Martinez, saying: "Whenever he wants to go, I'll release him immediately, but he'll only go to a big, big club and I don't think Everton are big enough."
But, on Tuesday, Whelan told BBC Radio 5 live: "I did tell Roberto before I spoke to him this morning that Everton chairman Bill Kenwright had rung me on Friday and asked for permission to speak to him.
"If he decided to leave us, he is a must for Everton. He plays football from back to front and Everton like to play football from back to front. In my mind, he is tailor-made to manage Everton."
Martinez, who joined Wigan in June 2009, was a target for Aston Villa in June 2011 but opted to stay. He was also strongly linked with the Liverpool job last summer.
Now Everton are keen on talking to the ex-Real Zaragoza and Swansea midfielder.
In his first managerial role, Martinez guided Swansea to promotion to the Championship in 2008.
Then he joined Wigan, keeping the club in the Premier League for three seasons despite working with a lower budget than many of his rivals.
Under his reign, Wigan finished 16th twice and 15th before slipping to 18th this season, although the Latics continued to attract praise for their style of football.
Wigan's success in the FA Cup - they beat Manchester City 1-0 in the final - means they will compete in next season's Europa League.