Premier League: English under-21s reaches new low
By Alistair Magowan
BBC Sport
Last updated on .From the section Football461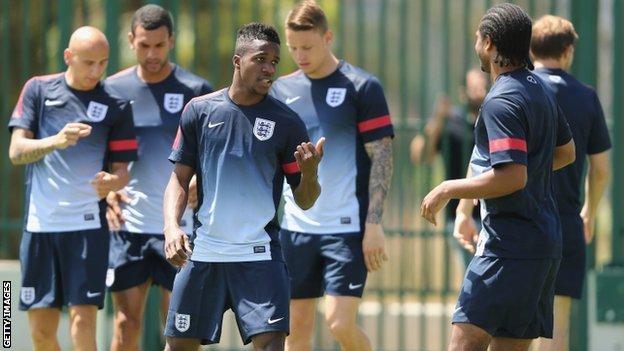 The playing time of English under-21s in the Premier League has fallen to its lowest level.
English under-21s made up 2.28% of the total minutes played in 2012-13 with Manchester City, Chelsea, Swansea, Stoke and Wigan failing to field an English player under 21 all season.
The new figures fall behind Italy (2.38%), Spain (3.40%), Germany (6.22%) and France (7.32%).
But the Premier League hopes to boost these numbers in three to five years.
England's Under-21s team begin their European Championship quest against Italy on Wednesday evening in Israel.
And with former England players such as David Beckham, Paul Scholes, Michael Owen and Jamie Carragher all retiring from football recently, there are fears that a new generation will struggle to make a similar impact.
According to new research by the CIES Football Observatory, only 35 English under-21 players made appearances in the Premier League last season, the lowest figure since 2005. In addition, Swansea did field Welsh defender Ben Davies, who is classed as an under-21 national.
The overall use of under-21 players in the Premier League has fallen from the highest of the big five European leagues in 2005 at 10.33% to the lowest of the big five, now at 4.45%.
And the percentage of playing time by English Under-21s is also on a downward trend, barring a peak because of the introduction of the homegrown rule.
England Under-21 boss Stuart Pearce told BBC Sport: "I'd be lying if I said it's not important that our best young talent is playing in the Premier League."
The English top flight already has the lowest number of national players across all ages at 42.9%, compared to Italy (45.6%), Germany (55.4%), Spain (61.6%) and France (71.6%). Sports statisticians Opta claim the figure is 36% in the Premier League.
But the Premier League plans to tackle the issue via its £320m Elite Player Performance Plan. It intends to improve standards in club academies through increasing the number of hours youngsters train and the quality of coaching.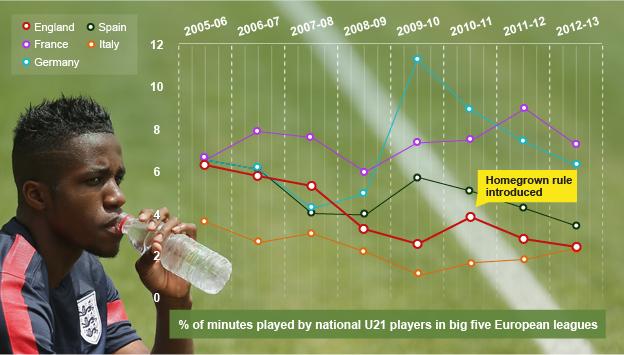 The introduction of the under-21 Premier League is also intended to improve the flow from the youth team to the first team.
The Premier League's director of youth Ged Roddy said: "I don't subscribe to the view that it is going to take 10-15 years to see an impact.
"Within a relatively short space of time you should be able to see players coming through hopefully in increasing numbers. There's been a lot of very good practice going on for many years and what we are doing is building upon that good practice and adding some new impetus along the way as well."
Pearce added: "The Italian league at this moment of time has not got a massive influx of foreign players, I don't think, as the Premier League has at this moment in time. So the bar has been raised at home because of the money, the finance and one or two other things.
"But looking at it purely from a selfish point of view to want England to win things, I'd prefer obviously if more of our players were playing more regularly and at a higher level."
Reacting to the figures, sports minister Hugh Robertson told BBC Sport: "Good coaching and youth development is vital if we are to produce more England players capable of competing at the very highest level and give the national team the best chance of success.
"The Elite Player Performance Plan will be crucial to this and St George's Park, backed by Government funding, will also help improve coaching and raise technical skills of young English players."
Outgoing Football Association chairman David Bernstein has talked about the "desperate need" for quality players that England boss Roy Hodgson can choose from while his replacement Greg Dyke, who begins his role on 13 July, said: "A lot of coaches I talk to tell me there is a lot of talent out there, but they can't get through."
Dyke also claims that the chance to learn in first-team environments is becoming more limited as managers' positions become more precarious.
If Wigan boss Roberto Martinez joins Everton, Newcastle manager Alan Pardew will be the Premier League's second longest-serving manager, having joined the club in December 2010.
Under-21 Premier League technical match observer David Pleat said: "It is difficult because you do have foreign owners and you do have foreign coaches and because they see their careers as more short-term unless they are successful quickly, they are more likely to tend to go for tried and tested which means foreign players."
Stoke have failed to field an English player aged under 21 in the first team for the last three seasons, a fact that owner Peter Coates is aware of. He describes the new figures as "disappointing" but believes there is an urge to develop young English players.
"We have a difficult transition between 18 and 21 and only the very exceptional players get the chance of playing Premier League football at that age group. So it does represent a challenge," he told BBC Sport.
"It's an issue that's well known, it's much discussed and my own view is that we are going to see improvements in this area but there is a lot of pressure on managers for results.
"It's hugely competitive, they are nervous about young players playing and we are able to attract the best players in the world and it's something we have to get better at."