FA's Dyke wants more English youngsters in Premier League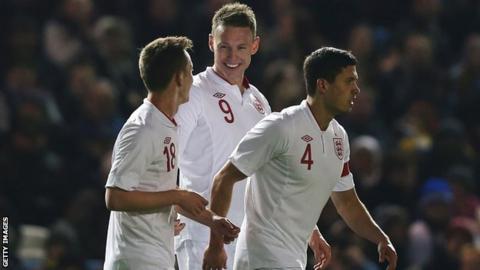 New Football Association chairman Greg Dyke says ensuring there are more young English players in Premier League first teams is one of his biggest challenges.
Former Brentford chairman Dyke, 65, takes over the role from David Bernstein on 13 July.
He arrives in the job at a time when the number of English youngsters in the Premier League is falling.
"A lot of coaches I talk to tell me there is a lot of talent out there, but they can't get through," he said.
"That is going to be one of the big challenges. How do we get talented kids, properly coached, into the top level of English football?"
English players make up 36% of those playing in the top flight, while in Spain's La Liga 61% of players are native to the country. The figure is 60% in France's Ligue 1, 47% in the German Bundesliga, which provided both this season's Champions League finalists, and 46% in Italy's Serie A.
Dyke, 65, told BBC Radio 5 live: "What I recognise is that we have a league system, particularly at Premier League level, where the insecurity of managers is such that: why take the chance on a kid where you can bring someone else in from Croatia, an experienced player who you know won't make the same mistakes that kids inevitably make?
"That seems to me a great challenge."
Dyke, who is a former Manchester United director, was also a director of London Weekend Television and involved in the deal to set up the Premier League in 1992.
But he is concerned that the top flight is not geared to helping the England national team, which has not reached a semi-final of a major tournament since 1996.
"I was around when the Premier League was set up [but] I'm not sure it was set up to improve the England team," he added.
"It was set up to improve the finances of the top clubs, which in some ways it has done but the money goes straight through. It's become like the movie business where there is a lot of income but it all goes to the talent.
"There is nothing wrong with that except the process has distorted the situation, and now we have a situation where English football, by and large at the top level, is owned overseas, is managed by people from overseas and played by people from overseas.
"It's turned it into a brilliant league, but it does give a problem with the English team."