Dundee need investment soon, says Keyes Capital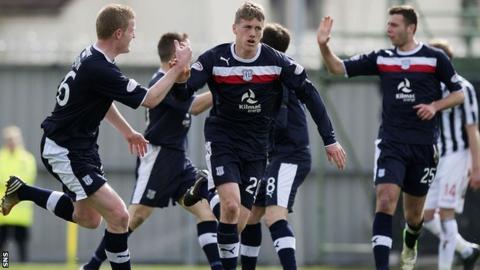 Keyes Capital says the chance to bring Dundee straight back to the Scottish Premier League may be missed if its investment offer is not accepted soon.
The Texan group is hoping to put £1.5m into the Dens Park club, who have been relegated to the First Division.
Keyes' John Nelms said: "Next year is our best to get back up into the SPL.
"Year two, I'm assuming that the boys from Glasgow [Rangers] are going to be there and that's going to make it much more difficult proposition."
Nelms revealed an initial £650,000 would go towards maintaining the current squad as well as attracting new players, with
"The manager's trying to keep the spine of the team and we need to get the players that we have and build around them," said Nelms.
"And we need to start supplying this team with longer-term contracts so we can have some consistency going through.
"We have a fear that, if we don't do this now, we'll end up being in the SFL potentially for the next three years or so.
"We want to make sure that the money does the most good for the club."
Keyes Capital invests in businesses expected to experience "slow growth", according to Nelms.
"They find companies that need parts added to them and they turn that £1m business to a £10m business over time.
"We actually starting talking about this quite a long time ago. We looked at other countries, not just Scotland, because we're looking for the raw materials to build the best players and develop the best players and each country has their own set of attributes and Scotland ticks all the boxes when it comes to the type of player that we'd like to develop.
"We started looking at the clubs in Scotland we were actually looking at SFL clubs at the time because we wanted to be able to build a long-term plan and be able to put parts into a club that we could have a long-term future.
"Dundee had some bits and pieces missing that we could put in that could keep that club at a very high level for generations to come."