Manchester City chief executive wants five trophies in five years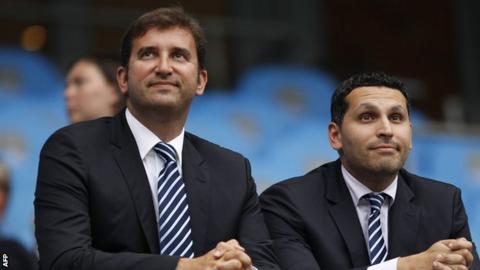 Chief executive Ferran Soriano wants Manchester City to win five trophies in the next five years.
Soriano is overseeing the search for a new manager after the club sacked Roberto Mancini, who was at the Etihad Stadium for three-and-a-half years.
"I would say I want to win five trophies in the next five years," said Soriano.
"That may mean we win no trophies one year and two in another, but on average I want one trophy or title a year."
He added: "That is the Champions League, the Premier League or the FA Cup."
Soriano, who was appointed in August 2012 to replace Garry Cook, also warned there would be no effort to replicate the longevity enjoyed by Sir Alex Ferguson at Manchester United, citing five years as the optimum length of time for a managerial reign.
"In football, teams have cycles and you can have managers who go through several cycles and managers who go through one cycle," said Soriano.
"Obviously, we want the next manager to stay for a number of years, but I think it would not be wise to speculate on the next manager being there for 26 years.
"This is an exception and I think three, four, five years is one cycle."
There is fresh focus upon City's ambitions after they dismissed Mancini a year to the day since winning the Premier League, citing the failure to hit "stated targets" and the need to "develop a holistic approach to all aspects of football at the club".
Mancini ended the club's 35-year wait for a trophy with victory in the FA Cup final in May 2011 and then won the league in May 2012.
But the Italian failed to replicate that success this season, finishing 11 points behind Manchester United in second and losing the FA Cup final to Wigan.
Soriano insists that the new manager will not have to win a trophy in his first season.
"I think that next season is going to be much better, I am convinced about that," said Soriano.
"If next year we don't win, but progress our football and get to the semi-finals of the Champions League, finish second in the Premier League and lose the FA Cup final again, that will be fine."
Manuel Pellegrini is thought to be in line for the job, with the 59-year-old confirming he is to leave Malaga this summer.