SFL Division One clubs may break away to form SPL second tier

Last updated on .From the section Football35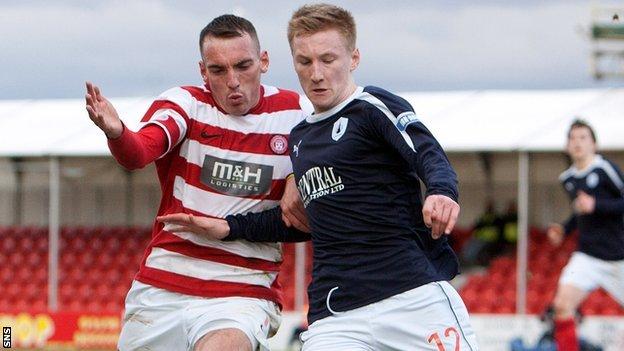 Scottish Premier League clubs are ready to welcome First Division teams into a new league set-up for next season.
And the SPL intends to start season 2013-14 rebranded as the 'Scottish Professional Football League'.
The set-up would operate with 12 clubs in the top tier with a 'Championship' of 10 sides beneath.
In effect, the current First Division would become the SPL's second tier and leave 20 clubs in the SFL.
There would be one automatic promotion/relegation exchange between the Championship and the top flight in addition to play-offs involving the second-bottom side in the SPL and the second, third and fourth sides in the division below.
However, there would not be play-offs between the Championship and Scotland's third tier.
Currently, play-offs exist between the First and Second Divisions and between Divisions Two and Three but only one team is relegated from the SPL with champions the only team gaining promotion from Division One.
The SFL held their AGM on Thursday and an initial show of hands reflected only 16 clubs in support of the SPL's 42-team proposals.
SFL motions require the support of 22 clubs to be passed and a formal vote will take place on 10 June.
Following the AGM, First Division clubs held a meeting of their own and Hamilton chairman Les Gray told the media: "We are at the end of it now and we think there is light at the end of the tunnel.
"We will do what we have to do now to proceed and we in the First Division are unanimous in our views.
"We have no meeting organised with the SPL but we will organise that in the coming days."
Second and Third Division clubs could also arrange a meeting to discuss the prospect of Division One sides breaking away.
And one Second Division chairman has told BBC Scotland that he wants the 10 First Division to be given an ultimatum that, if their proposed move to a new league body does not materialise, they will be unable to return to the SFL.