Watford's Nathaniel Chalobah wins Young Player of the Month
By Chris Osborne
BBC East Sport
Last updated on .From the section Football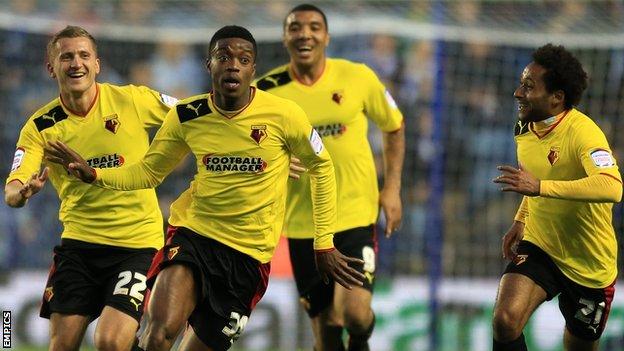 Watford midfielder Nathaniel Chalobah impresses his manager in almost every area, except with his walk.
"He's got this cocky walking style. It makes him look different to how he is," joked Hornets boss Gianfranco Zola.
"We are working on it. But we're doing better with his work on the pitch."
Chalobah, 18, currently has good reason to be strutting around, after being named May's Football League Young Player of the Month to cap a tremendous season that will culminate in a Championship play-off final against Crystal Palace on Monday.
It is a tie Watford earned with a remarkable semi-final second leg against Leicester, which saw the Foxes miss a potentially match-winning injury-time penalty before Zola's side went straight up to the other end and scored to
"The final is a big game. We're going to try to take the momentum from what was an incredible result," Chalobah, on loan at Watford from Chelsea, told BBC Sport.
"If we take that momentum into the final we will be fine."
Until this season, the Sierra Leone-born youngster had never made a professional appearance, but has now played 41 times for Watford, and has five goals and four England Under-21 caps.
So Zola, a legend at Stamford Bridge for his 59 goals in 229 games, has been nailing Chalobah's feet firmly to the ground before his Wembley debut.
"He will need a lot of maturity for the final - not only the skills," said Zola.
"To play a final is not just about skills - it also comes down to intelligence and how you handle yourself in terms of psychological approach.
"You are playing against another team which is as good as you. So you have to rely on your abilities as well as your intelligence. That's what I expect my team to be doing - especially Nathaniel."
Chalobah's story of integration at Vicarage Road has parallels throughout the squad.
Players from nine nations have arrived this season, from Argentina through Italy to Belgium.
But Zola has found a way of moulding the various cultures and languages into a team one game away from ending its six-year absence from the Premier League.
"I fitted in quite easily," said Chalobah. "All the foreign boys here try to speak English and try to join in with the banter. They never push themselves away from the squad.
"I think I slotted in quite easily. The good thing about this team is we win together and lose together.
"The English lads we have in the team really stamp their authority. They had a chat with the foreign boys when they all came in and showed them how things are done at the club.
"They've been in the Championship and know how it's done."
The fact that Watford have made 12 loan signings from sister clubs Udinese and Granada has rankled some, Zola's opposite number on Monday.
But there is also a British core to the Hornets this season, consisting of Lloyd Doyley, Troy Deeney, Fitz Hall, Jonathan Hogg and Nyron Nosworthy.
"If they are good players we don't care if they are Czech, Italian or English," said Zola.
"Honestly they get along very well.
"They realised it was difficult for everyone, because there were a lot of nationalities, some players came later in the season.
"But they found a common interest, which was playing and enjoying football together and becoming a winning team. Everyone married to that purpose.
"People who say we are a team of foreigners players probably didn't check the team sheet. We are patient; it's not a problem.
"I understand that at the beginning of the season we were an unknown team and didn't cause an inconvenience, but towards the end we were getting a little bit too good.
"But I take it as a compliment for my team and myself."