SFL clubs to hold June vote on league restructuring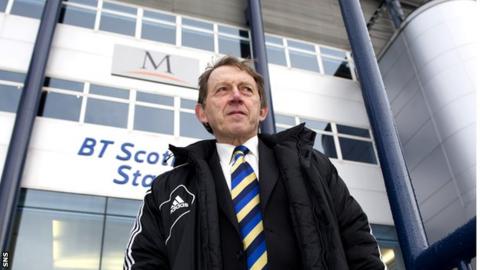 Scottish Football League clubs will formally vote on proposals for league restructuring on 10 June but an initial show of hands has cast doubt on whether the measures will gain enough support.
The Scottish Premier League are proposing a merger with the SFL, a revised financial distribution model and more end of season play-offs.
An SFL motion needs the support of 22 clubs to be passed.
But a show of hands at Thursday's AGM indicated only 16 clubs are in favour.
Following the meeting, the 10 First Division clubs left for a separate meeting.
Earlier, Hamilton chairman Les Gray reiterated that the clubs in Scotland's second tier would pursue a 22-club solution - involving the SPL and First Division sides - if the existing 42-club proposals do not gain enough support.
And, fearing the motion will not be passed, Gray described the 10 June meeting as "an irrelevance".
"It has been voted down, it is a failed vote," he said after the AGM.
"There were a lot of reasons why it didn't work but it is not just about money.
"There were five core principles which the majority of the clubs agreed on but it didn't get over the line because some of the Second and Third Division clubs didn't feel it was right for them."
And, in reference to the First Division clubs, he added: "We will do what is right for our clubs."
Livingston chairman Gordon McDougall, a senior member of the SFL board told BBC Scotland that "time ran out a long time ago" for league restructuring for next season.
McDougall says there has been no communication from the SPL to SFL clubs about the proposals the top division drew up last week.
Another football league board member, Dunfermline's honorary director Jim Leishman, says there are two main stumbling blocks; the make-up of any merged board and the redistribution of finances.
Leishman says it is "very frustrating that there's a need for a solution but that we can't get agreement".
He also feels the issue has been talked about for too long.
SPL clubs unanimously agreed on a package of measures that would deliver a merged league body in time for next term.
The single governing organisation would oversee the 12-10-10-10 divisional structure that is presently in place, but there would be greater financial redistribution to the second tier.
The SPL also wants to introduce play-offs involving the team finishing 11th and teams second, third and fourth in the league below.