New Sierra Leone coach Johnny McKinstry on the march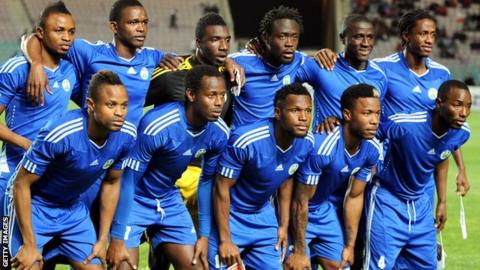 Most 27-year-old Northern Irishmen who want to be at next year's World Cup in Brazil will have to buy a ticket - but Johnny McKinstry has other plans.
Having been installed as Sierra Leone interim coach in April, McKinstry's objective is to qualify for the tournament and secure himself a permanent job in the process.
McKinstry is, however, under no illusions about the size of the task.
Sierra Leone sit second in their World Cup qualifying group, five points adrift of leaders Tunisia with only three games remaining.
"Like any supporter in Sierra Leone I want to be in Brazil next summer, but that is not easy. It is a challenge, it's not entirely in our own hands," McKinstry told BBC Sport.
Realistically, McKinstry's side would need to win the away games against Cape Verde and Equatorial Guinea as well as the home match with Tunisia to give themselves a chance of finishing top of Group B and advancing to the next stage.
Few people have confidence that the inexperienced McKinstry, who has no previous coaching experience in Africa, can pull it off and his appointment has been questioned in some quarters.
"I understand that criticism," said McKinstry. "The one thing I will point to is the game of football is changing, the idea of a professional football coach who has spent an entire career developing as a coach is one that is coming more and more into play.
"You look at the Portuguese Premier League where at least four of the current managers are ones who have developed their entire career as coaches away from the playing side.
"In terms of my age, I have been working in this industry for over a decade now so the SLFA could have chosen a former player who was 35 or bit older but they may have no coaching experience.
"I have travelled the world, I have the highest qualifications - academic and sporting - in both Europe and in the USA and I've had over a decade working with elite players.
"To those people who say I may be too young, I say they need to look at some of the top managers in world football and where they started.
"Andre Villas-Boas was handed the reins of the British Virgin Islands at only 21 years of age and Rafael Benitez was the coach of Real Madrid B team when he was 26. So age doesn't matter."
McKinstry holds a Uefa 'A' coaching licence and has worked for the Irish FA, English Premier League club Newcastle United and the Major League Soccer team New York Red Bulls.
Before taking on the Sierra Leone job he was working at the Craig Bellamy Foundation, which runs a football academy in Freetown.
McKinstry is nothing if not ambitious and passionate - and also determined to prove he has what it takes at this level.
"I want to progress in football as far as I can. I've got a contract for three games and my aim is to win those three games and earn a place in the next round of the qualifiers. If that happens then we can arrange something for me to stay.
"If I can lead this country to the World Cup in 2014 I'll be as proud as any Sierra Leone-born person and that is what what we are aiming for."