Crusaders win right to oppose government funding for Windsor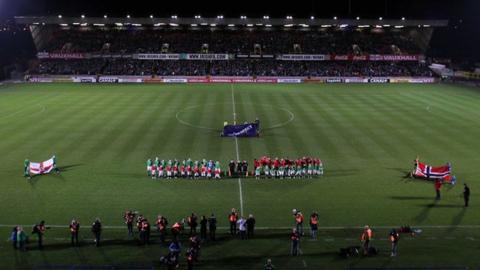 Irish League club Crusaders have won the right to legally challenge the government's £25m funding of a redevelopment project for Windsor Park.
The south Belfast venue is Northern Ireland's national football stadium, but is owned by Linfield who are rivals of Crusaders in the Irish Premiership.
Crusaders claimed that the government money could unfairly extend Linfield's dominance in local football.
On Wednesday they were granted leave to seek a judicial review.
Lawyers for both the Department of Culture, Arts and Leisure and Irish Football Association argued the challenge was premature and should be thrown out.
A judge ruled that Crusaders had established an arguable case that the redevelopment of Windsor Park amounted to unlawful state aid for their rivals Linfield.
Mr Justice Treacy granted leave to seek a judicial review on that point, and on an alleged lack of transparency around the proposed scheme.
But he stressed his decision had no bearing on the ultimate outcome to the case.
The Windsor redevelopment is part of a plan that also includes the Ulster rugby ground at Ravenhill and the GAA's Casement Park.
A total of £110m has been set aside for the three building projects through the Department of Culture, Arts and Leisure.
Crusaders claimed the upgrade to Linfield's stadium breached European Union competition laws and constituted government aid.
They argued the proposals would create extra revenue streams and give an unfair advantage to a club already in a financially dominant position.
Lawyers for the Department insisted no final commitment had been given to provide the £25m earmarked in the Stormont Executive's Programme for Government.
Although the process was said to be at an advanced stage, the court was told stadium funding depended on agreement on a range of sporting and social integration projects.
Counsel for the IFA backed the contention that the challenge was premature.
Alternatively, if proceedings were brought against a policy first unveiled in 2011 it was out of time, he argued.
But Mr Justice Treacy said: "It is in my view arguably clear that the government has made a decision in respect of a funding package to redevelop Windsor Park, build a new stadium at Casement Park and redevelop Ravenhill."
Granting leave on the state aid ground of challenge, he confirmed: "The court holds that the challenge is not defeated at this stage on grounds of prematurity or delay."
The judge also allowed a claim about a lack of transparency on the process to progress, but threw out a further allegation that it breached fair competition laws.
He stated: "I should emphasise that the grant of leave says nothing at all as to how the case will ultimately be resolved following the provision of and consideration of all relevant evidence.
"The grant of leave merely signifies the case is arguable or worthy of further consideration."
Outside the court Crusaders director Mark Langhammer gave a cautious welcome to the verdict.
He said: "Our aim in all of this has always been to get a balanced and competitive league.
"At this stage, what this leave hearing decision secures is access to the information on which DCAL and others made their decision.
"We will not get ahead of ourselves, we will simply get the information first and discuss it with our members."
The Irish FA had hoped building work on the Windsor Park redevelopment would start later this year and be completed in 2015.