Manchester City form MLS franchise with New York Yankees
Last updated on .From the section Football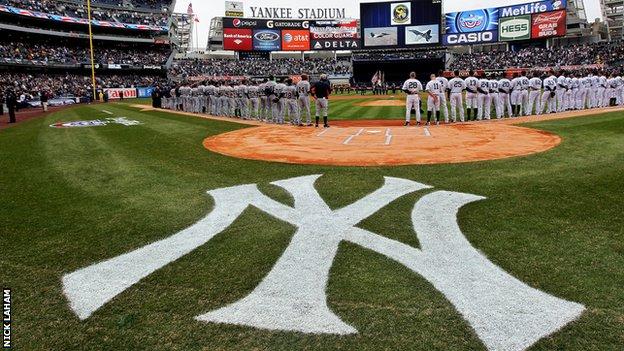 Manchester City have announced a partnership with baseball giants the New York Yankees to form a new Major League Soccer franchise.
New York City Football Club will enter the MLS in 2015 after a deal thought to be worth $100m (£66m) was struck.
The new club will play in a temporary home until a new stadium is built.
"We are thrilled to contribute to the energy and growth of New York City soccer," said Manchester City chief executive Ferran Soriano.
Discussions are under way over the construction of a new stadium for the team at Flushing Meadows in the Queens borough of the city.
The new franchise, the 20th in the MLS, will be the first in the city itself but the second in the metropolitan area, with New York Red Bulls based in Harrison, New Jersey.
The Yankees have previously had commercial associations with Premier League champions Manchester United.
City will be the majority owners of the new franchise and Soriano added: "New York is a legendary sports town, as well as a thriving global city with a rapidly expanding soccer fanbase.
"In the Yankees, we have found the absolute best partner for developing a world-class sports organisation and a winning team that will carry the New York City Football Club name with pride."
City are currently in the United States, where they will play two post-season friendlies against Chelsea, in St Louis on 23 May and at Yankee Stadium on 25 May.