Manchester United top Premier League TV revenue table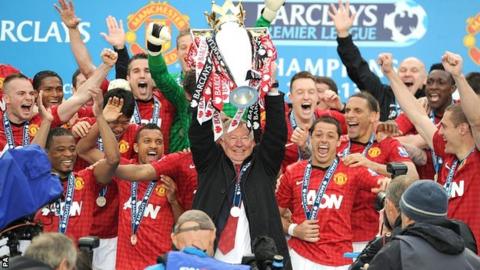 Champions Manchester United earned a record £60.8m in television revenues for the 2012-13 season, more than any of their Premier League rivals.
United were the most televised club, with 25 of their 38 matches broadcast.
Manchester City's second place finish saw broadcast income fall 4% to £58.1m, while bottom club QPR received £39.7m.
A new three-year broadcasting deal starting in August will allow next season's bottom side to earn more than this year's winners.
Television revenues will increase for all clubs next season after the Premier League's broadcast rights were sold for £3.018bn for seasons 2013-14 to 2015-16, an increase of £1.77bn.
The figure does not account for overseas rights, which are still under negotiation, and such a sharp rise in revenue prompted several managers and chairmen to emphasise the importance of staying in the league.
Relegated Wigan, Reading and QPR will all receive an increased parachute payment, while next season's league winners are expected to receive close to £100m in broadcast earnings.
In total, the Premier League's 20 clubs received more than £972m from domestic and overseas television rights in 2012-13.
Half of all domestic broadcast revenue is split evenly among the league's clubs, with a quarter of the money paid according to a team's Premier League position at the end of the season and the final 25% depending on how often a team is televised.
Despite finishing third, Chelsea (£55m) earned less than fourth-placed Arsenal (£57.1m) and fifth-placed Tottenham (£55.8m) because fewer of their games were televised.
Arsenal and Liverpool were televised 22 times each, with Tottenham live on 21 occasions and Chelsea just 16.
Fulham, Norwich City, Reading, Southampton, Stoke, Swansea City, West Brom and Wigan Athletic were the least televised clubs, appearing live on 10 occasions each.
All overseas revenue is evenly split and this year accounted for a payment of £18.9m to each club.
Of the sides promoted last summer, West Ham (£48.7m) earned the biggest share of broadcast revenue courtesy of their 10th place finish.
Both Everton and Aston Villa appeared on television four more times in 2012-13 than in their previous campaigns, prompting both to benefit from a £2.9m rise in revenue. Newcastle United's 16th place finish led to a £9m fall in their share.
Television revenue for Premier League clubs 2012-13
Club according to Premier League finish
Live games broadcast (2012-13)
Broadcast revenue (£m)
Difference from 2011-12 (£m)
Manchester United
25
60.8
0.5
Manchester City
21
58.1
-2.5
Chelsea
16
55
0.6
Arsenal
22
57.1
0.9
Tottenham Hotspur
21
55.8
-1.5
Everton
14
51.7
2.9
Liverpool
22
54.8
0.4
West Brom
10
48.3
1.7
Swansea City
10
47.6
1.6
West Ham United
14
48.7
N/A
Norwich City
10
46.1
0.5
Fulham
10
45.3
-2.1
Stoke City
10
44.6
1.0
Southampton
10
43.8
N/A
Aston Villa
14
45
2.9
Newcastle United
16
45.2
-9.0
Sunderland
14
43.4
-0.9
Wigan Athletic
10
40.1
-2.2
Reading
10
40
N/A
Queens Park Rangers
11
39.7
-3.5