How did your team's manager fare this season?

By Phil McNulty
Chief football writer
Last updated on .From the section Football319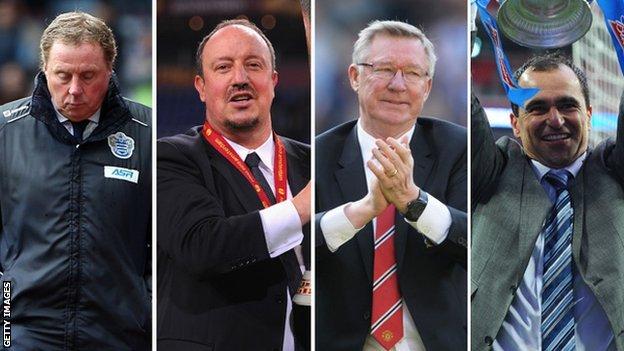 As the Premier League shuts down for the summer, chairmen begin to take stock of their season and ponder sticking or twisting with those responsible for their team's affairs.
Those bosses that survived until the end of the campaign start the process of planning for next season and improving on their showing this year.
Here's my rundown of the top-flight's key men this season.
Arsenal
Arsene Wenger remains without a trophy since 2005 and the gloss of a 16th successive Champions League qualification will not completely disguise the humiliating exits to League Two Bradford City in the Capital One Cup and Championship Blackburn Rovers in the FA Cup.
Wenger, however, has presided over remarkable consistency in qualifying once more for Europe's elite competition - and such is the enduring belief in the Frenchman inside Emirates Stadium that his job was never under threat, even if Arsenal had finished fifth.
The club are confident their shrewd financial management has placed them in a powerful position. Wenger insists he will be pro-active in the market but he surely cannot go another season without a trophy.
VERDICT: Still the key figure at Arsenal and never under threat. Champions League qualification deserves praise but this cannot hide the fact he must win a trophy next season.
Aston Villa
The Scot has endured a tough first season at Villa Park but has grown into the job with the support of owner Randy Lerner and the club's supporters.
The loss over two legs to League Two Bradford City in the Capital One Cup semi-final was a low point and relegation was only avoided in the final week of the season, but at least there were genuine signs of Lambert's faith in youth coming to fruition, which meant the campaign ended with optimism.
And he proved a shrewd worker in the transfer market, arguably pulling off the bargain of the season by signing outstanding young striker Christian Benteke from Genk for only £7m. The 22-year-old's return of 19 league goals was the difference between staying up and going down. Defender Matthew Lowton - £3m for Sheffield United's 23-year-old - falls into the same bracket.
VERDICT: Lambert was never placed under any pressure by Villa owner Randy Lerner and is now in a position to build on the groundwork of a testing, and at times very fraught, first season in charge.
Chelsea
Chelsea's typically dysfunctional season ended with typical success at the end as interim manager Rafael Benitez and guided them into next season's Champions League with a third-place finish in the Premier League.
Roberto Di Matteo started the season in a style suggesting he would build on 2012's Champions League success that earned him the permanent post. The suspicions that owner Roman Abramovich was never convinced by his credentials were confirmed when he was sacked as a dismal defence of the Champions League drew to a close in the group phase in November.
Rafael Benitez's history with Liverpool made him a hugely unpopular choice with supporters but he earned tolerance and his success in Europe will make him a sought-after coach this summer. Di Matteo, meanwhile, still waits for his chance to return.
The next step, most probably under Jose Mourinho, will be as eventful as always at Chelsea.
VERDICT: Owner Roman Abramovich attracts criticism for his ruthless approach to hiring and firing - but how many other clubs around Europe - not to mention closer to home in the Premier League - would trade stability for Chelsea's successes?
Everton
Manchester United demonstrated the respect in which David Moyes' work is held by appointing him as Sir Alex Ferguson's successor. He did not win a trophy in 11 years at Everton but has won so many admirers in keeping Everton in the upper reaches of the Premier League. They finished ahead of Liverpool once more, despite the more lavish budget enjoyed by Brendan Rodgers.
Everton chairman Bill Kenwright now faces a huge decision on choosing a successor to Moyes. There is talk of promotion from within, with names such as Phil Neville, David Weir and Alan Stubbs mentioned. Can Kenwright, however, really gamble on entrusting the job of taking over from Moyes to someone without any managerial experience?
Wigan's Roberto Martinez is the favourite and his success in means Kenwright could at least sell him as a man who has won more than Moyes, rather than someone whose season
VERDICT - David Moyes' work earned him his shot at Manchester United - and now Bill Kenwright is faced with a decision he cannot afford to get wrong.
Fulham
Fulham ended the season with victory at Swansea City but this was a largely undistinguished campaign illuminated mainly by the skills of Dimitar Berbatov.
The Swansea victory ended a run of seven games without a win - and at least Premier League status is secure once more - but there is plenty of conjecture about the immediate future of manager Martin Jol.
VERDICT: Martin Jol kept Fulham up but will need better next season to convince owner Mohamed Al Fayed that he is the man to take Fulham further forward.
Liverpool
A transitional season at Liverpool for Brendan Rodgers with spectacular performances full of goals, mixed with disappointing defeats - and a very obvious inability to beat the top six, Tottenham apart. Rodgers also suffered in the cups, especially in the embarrassing defeat to League One Oldham Athletic in the FA Cup fourth round.
Liverpool's seventh-place finish was an accurate reflection on their efforts. Luis Suarez carried the team in the early part of the season before shaming himself once more by earning a 10-match ban for biting Branislav Ivanovic.
Rodgers had mixed fortunes in the transfer market. Fabio Borini and £15m Joe Allen, in particular, were disappointing but he looks to have hit the mark with Daniel Sturridge and Philippe Coutinho.
He was certainly not starved of cash by Liverpool's owners and Suarez's future will be a subject for debate but Liverpool showed enough towards the end of the season to give Rodgers hope that they can develop further with the right investment this summer.
VERDICT: A routine sort of season for Rodgers. Not good, not great and still a world away from title contenders and not yet even relevant to the chase for Champions League places. Will need a fast start next season.
Manchester City
Roberto Mancini's failure to build on their first title in 44 years, added to a desperate Champions League campaign that fell at the group stage and widespread player unrest, led to his sacking.
Many supporters felt this was a harsh outcome for the Italian but City's hierarchy clearly believe Malaga's Manuel Pellegrini - respected but hardly a proven winner - is a better choice to plot their desired domination at home and abroad.
VERDICT: Mancini's dismissal illustrates the pressures and expectations at work at Manchester City, which means Pellegrini can be forewarned and forearmed about what awaits.
Manchester United
Sir Alex Ferguson ended the greatest managerial era in British football after 26 years with his and Manchester United's 20th crown in total.
Still as fired up and committed as ever, even at 71, his decision to step down shocked the sporting world and another disappointment in the Champions League will be his main regret from his last campaign.
It appears Ferguson has hand-picked his successor in Everton's David Moyes. It is football's hardest act to follow but Ferguson's fellow Scot has had a lengthy apprenticeship at Goodison Park.
VERDICT: Manchester United fully deserved their title but defeat to Real Madrid in the Champions League raised old questions about the lack of a world-class central midfield player. Some key figures are getting older as well - so there is plenty waiting in Moyes' "in-tray".
Newcastle
Newcastle United's fall from grace was spectacular. From fifth place last season to only securing safety with a win at already-relegated QPR a week before the end of the season.
Pardew cited injuries as a major problem and there was also the difficult demands of regular Thursday night games in the Europa League.
But, after a bright start, the failure of Newcastle's huge French contingent, who arrived amid much fanfare in January, led to some desperate stuff in the 3-0 home defeat to north-east rivals Sunderland and the humiliation of a 6-0 humbling against Liverpool, also in front of their own fans.
A troubling season for Pardew and Newcastle - and everyone knows just how fluid things can be on Tyneside. Worrying times.
VERDICT: Newcastle's manager is in possession of a much-publicised eight-year contract and has made positive noises about next season - but he may still need to fully persuade owner Mike Ashley of his ability to revive his team in August.
Norwich
A mixed first season at Carrow Road for Hughton. Landmark home wins against Arsenal and Manchester United before Christmas established a base to survive but a poor run until two final wins against West Brom and at Manchester City made for some anxious times in Norfolk.
Hughton, however, has fulfilled his brief of keeping Norwich in the Premier League and this sound, dignified personality is a neat fit for the club.
VERDICT: Hughton could have done without those worrying last few weeks but has done more than enough to earn the continued faith of Norwich City's board.
Queens Park Rangers
The carnage presided over in terms of signings and performances by Mark Hughes until his dismissal in November has left a blot on his hard-earned managerial reputation and left his successor Harry Redknapp too much to do when he took over.
Even so, most observers would have expected better than the tame surrender served up after Redknapp arrived at Loftus Road. The great motivator struggled to inject any life into a group of players who seemed resigned long before it was confirmed.
Redknapp faces a huge overhaul of his squad this summer as he and QPR pay the price of the lavish spending under Hughes. It could be a very long road back to the Premier League.
VERDICT: A season that was, in a football context, nothing short of a disaster from first to last. Hughes may have excluded himself from major jobs forever and Redknapp will hardly know where to start to pick up the pieces.
Reading
Reading's return to the Premier League was brief and brutal as it became clear very quickly that they were out of their depth. There was plenty of sympathy for the sacked Brian McDermott who had, after all, brought them up. Was he the victim of his own success?
His replacement with Nigel Adkins - also treated harshly at Southampton - seemed a like-for-like chain of succession and was too late to make any difference.
VERDICT: Tough task for any manager to keep this Reading side in the Premier League and McDermott paid the price for engineering promotion. Now Reading must hope Adkins can prove his worth at leading the Royals back out of the Championship.
Southampton
There was shock when Nigel Adkins was shown the door in January and instantly replaced by Argentine Mauricio Pochettino. Popular with fans and with Saints playing attractive football, it was a high-risk strategy by chairman Nicola Cortese to dismiss Adkins.
If ensuring survival was the aim it worked but the season ended in some turmoil with Cortese threatening to leave, and Pochettino hinting he would follow him, over differences with the trust that owns the club. Quite where they would have gone is another matter.
All has been resolved but Pochettino must prove next season that he has the standing that will ultimately make him a worthy successor to Adkins.
VERDICT: Some high points for this fine football club and safety ensured. Now Cortese and Pochettino must prove again that they are worth the faith of the owners by moving Saints forward once more this summer.
Stoke City
After watching Stoke City beat Liverpool so impressively on Boxing Day, it was hard to imagine they would still have relegation fears in the closing weeks of the season.
And yet something was not quite right with these most resilient of Premier League opponents, with manager Tony Pulis - the subject of mounting criticism from fans - leaving the club after seven years in charge.
Perhaps, in Pulis's case, familiarity bred contempt with some supporters. The style that has brought criticism from some - not from here it should be stressed - may not be so palatable once results start to turn.
The club was not helped by what some very generously called "the prank" of an individual leaving a pig's head wrapped in striker Kenwyne Jones' clothes.
VERDICT: A big summer for Stoke following Pulis's departure. In five seasons under his stewardship, their lowest position was 14th. But perhaps the relationship had run its course.
Sunderland
Sunderland's fear of the drop into the Championship was so great that they sacked Martin O'Neill with only seven games left.
They did not opt for the quiet life, on any level, with the appointment of Paolo Di Canio. He won his place in the hearts of Black Cats followers with a convincing win at Newcastle, which played a huge part in the club's survival - but this appointment will be pure theatre.
Di Canio's public criticism of the players and culture he has inherited has been explosive. It has been on such a scale that he appears to have little option other than a wholesale reconstruction this summer - a real test of this highly combustible personality's ability as a manager.
VERDICT: Martin O'Neill's sacking worked if staying in the Premier League was the prime objective. But how will Paolo Di Canio's scorched earth policy towards verbal treatment of his players in public play out? Who knows? What we do know is that it will be gripping viewing and listening.
Swansea
What a smooth transition from the loss of Brendan Rodgers to Liverpool. Swansea appointed a man of world football renown in Michael Laudrup and were rewarded with their when Bradford City were thrashed 5-0 in the Capital One Cup Final at Wembley. Just about perfect.
VERDICT: Laudrup delivered a cup and ninth place in the Premier League. Swansea's only worry will be diverting advances from other clubs for their admired manager.
Tottenham Hotspur
It was another Champions League disappointment for Spurs as Arsenal clinched fourth place on the final day. Andre Villa-Boas may have finished a place below the position that got Harry Redknapp the sack but chairman Daniel Levy has declared his satisfaction with coach and staff.
Villas-Boas has learned from his harrowing experience at Chelsea and there was warmth towards him from fans at the end of their final game at home to Sunderland.
He says he has been assured Gareth Bale, this season's outstanding Premier League performer, will not be sold. If he stays, both Villas-Boas' and Spurs' chances of success will improve next season with the right reinforcements.
VERDICT - Good season for Spurs and Villas-Boas but only a Europa League place to show for it. Will need to strengthen and keep Bale for his time at the club to move to another level next season.
West Brom
Fine first season in management for the experienced Steve Clarke. West Brom ended in an excellent eighth place, a tribute to a very professional group of players and one of the domestic game's most respected figures.
VERDICT: A perfect choice of head coach by West Brom. Clarke justified their faith and there will be optimism for next season - but Romelu Lukaku will take some replacing as he returns to Chelsea.
West Ham
Sam Allardyce is a great divider of opinions but who can argue with a place in the top ten in West Ham's first season back in the Premier League? He is an organiser and motivator who makes teams hard to beat - something Newcastle and certainly Blackburn Rovers would have done well to remember.
VERDICT: Good, solid season. Allardyce has a new two-year contract and will already be looking to build on the work done over the last nine months.
Wigan Athletic
Never has a season summed up this unpredictable team better than this one. Wigan make history by then follow it up by within days.
Manager Roberto Martinez and his purist attacking ideals remains one of their prize assets but has he come to the end of his time at Wigan? Everton looks a likely next destination.
VERDICT: Martinez remains a great managerial enigma. Is he a gifted alchemist who can win the FA Cup, or a permanent relegation fighter who struggles to set teams up defensively? And will Everton give him the chance to prove his case definitively next season?