Jose Mourinho's Chelsea return could be a risk

By Phil McNulty
Chief football writer
Last updated on .From the section Football394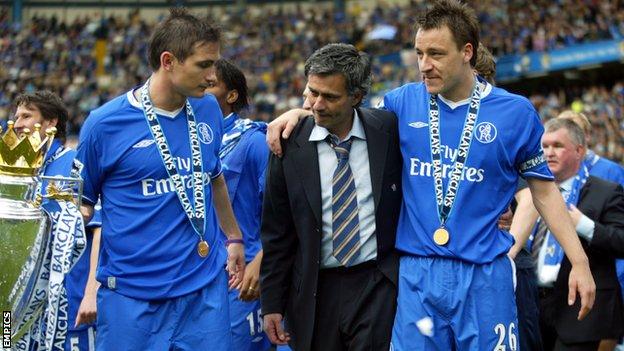 Jose Mourinho's return ticket to Chelsea looks to have been stamped as from the Bernabeu at the end of the season.
All signs now point to mere formalities being the only remaining barrier to "The Special One" making a triumphant return to the club he led to unprecedented domestic successes before leaving in September 2007.
Once he has fulfilled his final duties at Real Madrid after a season he openly admits has been the Chelsea and owner Roman Abramovich can finalise a reunion that has been some time in the making.
With claims of an agreement in principle being reached some time ago, the fact that Mourinho's departure is by mutual consent means Abramovich can now complete moves for his target without having to pay compensation. It is another factor that should lead to a swift resolution of any remaining negotiations.
With Manchester United preferring David Moyes as Sir Alex Ferguson's replacement and Manchester City ready to appoint Malaga's Manuel Pellegrini to take over from sacked Roberto Mancini, Mourinho has eventually gravitated towards what he still regards as his natural Premier League home.
He fluttered his eyelashes in Chelsea's direction after his third successive Champions League semi-final defeat at Real, when they lost to Borussia Dortmund. He said: "I know I'm loved by some clubs, especially one. In Spain it is a big difference. Some people hate me."
Mourinho He is correct of course but to recall his time at the Blues as a love-in with our profession is to put a somewhat romantic touch on the reality.
Chelsea are in no immediate rush as they fly off for a post-season tour to the United States but it is hardly likely Abramovich and his cohorts were startled by events unfolding in Madrid on Monday evening. Expect things to move quickly once Mourinho's commitments are complete.
If Mourinho comes back to the club where he won two Premier League titles, the FA Cup and two League Cups in a tenure lasting a little more than three years, there will be widespread rejoicing among Chelsea's fan base.
Abramovich ignored the discontent of Chelsea's supporters to appoint the hugely unpopular Rafael Benitez as interim manager following the sacking of Champions League winner Roberto Di Matteo - but by delivering Mourinho he is assured a virtually unanimous approval rating.
In a twist laced with some irony, Mourinho would return to a club celebrating success manufactured by his old adversary Benitez after Chelsea's Europa League win. It was Benitez who had the act to follow, unsuccessfully, when he succeeded Mourinho after he won the Champions League, Serie A and the Italian Cup at Inter Milan in 2010.
Mourinho is guaranteed a hero's reception if and when he walks through the doors of Stamford Bridge as manager once more but there is an element of risk attached to the second coming.
The dynamic of any rekindled relationship between Abramovich and Mourinho would be full of intrigue. It is hardly a case of "can't live with, can't live without" but the intervening years may just have convinced both they are best for each other.
Their relationship fractured badly before his departure and while there has been a repair, the true test of its recovery would only come when they work closely together again.
Mourinho and Abramovich would have to become acquainted with a word that had not figured a great deal in their vocabulary - compromise.
The Russian oligarch may have to concede some of his power to Mourinho in any renewed partnership but equally the latter would have to be acutely aware of the owner's over-arching influence. As Mourinho and others have discovered, Abramovich's word is still law at Chelsea. To expect some sort of handover of power from Abramovich as an act of gratitude in exchange for Mourinho's return is a notion plucked from fantasy.
Chelsea's hopes of Mourinho recreating the successes of his first spell will rely heavily on how that delicate balance between owner and manager plays out and can be maintained.
And there is the inevitable risk of going back to the scene of old glories.
Is it ever the same the second time around? Can it ever be as fresh as that sun-kissed Stamford Bridge day in June 2004 when Mourinho, the Champions League winner with Porto, captivated Britain's sporting public with his "Special One" speech and the verbal jousting that hinted at the headlines to come?
One thing is certain. Mourinho will have no doubts and the thrill of laughing in the face of his detractors will appeal to his confrontational side.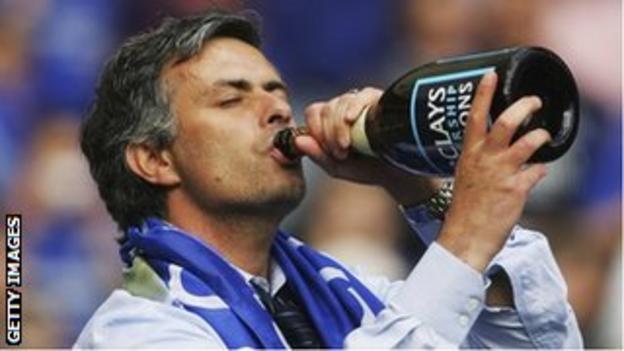 Frank Lampard, such a key element of Mourinho's era at Stamford Bridge, has no doubts it can be done and there is little doubt his decision to sign a new one-year deal would have been greeted with pleasure in Madrid if Real's coach was throwing his thoughts forward to his next assignment.
And what of the squad he might inherit? Benitez hinted openly after the Europa League win that Chelsea's next manager - who he is convinced will be Mourinho - will have up to £100m to spend this summer.
With Manchester United and Manchester City also under new management, and Arsenal now ready to spend, this is the sort of financial strength that will shape the next generation at Chelsea.
Could it be that Mourinho will be the man to call time on 32-year-old John Terry's Chelsea career? Destabilised by injuries and with defenders Gary Cahill and Branislav Ivanovic more robust these days, do not bet against Mourinho being ruthless enough to dispose of Terry if he does not suit his purposes.
And how will the essentially pragmatic Mourinho fit Chelsea's "Three Amigos" - Oscar, Juan Mata and Eden Hazard - into his tactical framework? He has shown a willingness to incorporate creative talent at Real but will he do the same in the Premier League?
Even before his arrival has been confirmed, Mourinho has been linked with potential deals for Atletico Madrid striker Radamel Falcao and Manchester United's transfer-seeking Wayne Rooney - although the latter may change his mind with Moyes's arrival at Old Trafford.
What does this mean for the future of rejuvenated Fernando Torres, who scored his 23rd goal of the season against Everton on the Premier League season's final day and has promised even more next season?
Whatever Mourinho does or decides, he will do it with pure theatre. Will the next chapter of his and Chelsea's story have a happy ending if they join together once more?