Hearts: SPL decides against punishment for owner's plight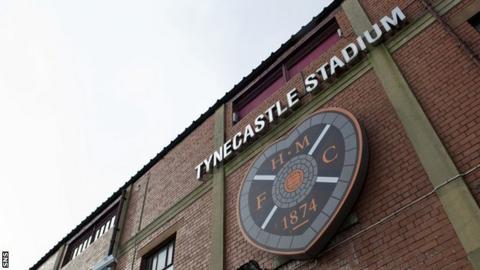 Hearts have avoided immediate relegation after the Scottish Premier League decided the club's financial problems had not breached its rules before the end of the season.
The club's parent company, UBIG,
It led to fears that Hearts would face an 18-point penalty and relegation.
But the SPL board concluded that it could not say whether insolvency had occurred as defined by its rules.
Following talks between the six board members at Hampden, a league statement read: "The SPL board met today to consider reports from Lithuania in respect of Ukio Banko Investicine Grupe (UBIG).
"The board are not satisfied on the basis of information currently available to it that an insolvency event as defined by SPL rules occurred in respect of UBIG during 2012-13."
Rangers' financial meltdown last season led to its new owners being denied entry to the SPL and starting life again in Division Three.
Dunfermline Athletic were deducted 15 points by the Scottish Football League - and were relegated from Division One on Sunday - after going into administration.
And, ahead of the Hearts decision, Scottish FA chief executive Stewart Regan admitted that the Tynecastle club's problems were more bad news for the nation's football.
"It is damaging because Hearts are a big club," he said. "It's another example where finance is .
"And, again, the people you feel sorry for are the fans at the end of the line who are desperate just to watch their team and watch good football."
Regan did not think the Scottish FA would become involved in Hearts' problems at this stage, but warned that the Edinburgh club could now pay the penalty for the difficulties faced by its parent company in Lithuania.
"This is an SPL matter," he said. "This is the SPL's rules with regarding insolvency - rules that were put in last summer and rules that moved from insolvency events affecting just the league member club but also the parent of that member club.
"They are completely different from the Scottish FA's own rules on insolvency events.
"If they don't like that decision, whatever decision it might be, clearly they can make a case to the Scottish FA.
"But, as far as we are concerned, this is a league matter and the league will decide the rules by which it operates.
"With the clock ticking towards fixtures being published and so on, I think any decision will have to be made quickly."
The SPL board that made the decision consists of chairman Ralph Topping, chief executive Neil Doncaster, Celtic director Eric Riley, Dundee United chairman Stephen Thompson, Aberdeen chief executive Duncan Fraser and Kilmarnock chairman Michael Johnston.
A Hearts spokesperson said in a website statement: "We are continuing to prepare for the new season in the SPL and are hopeful that the summer will be a busy one as the club looks to improve on the campaign which has just finished."