QPR boss Harry Redknapp: I may leave unless I can sign players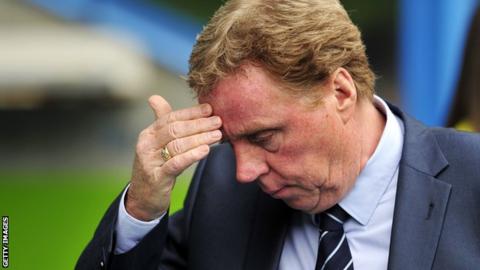 QPR manager Harry Redknapp has warned he will consider leaving the relegated club if he is not allowed to overhaul his squad this summer.
Sunday's 1-0 defeat at Liverpool was the Premier League bottom club's seventh loss in nine matches.
"If I can't change it around during the summer and get some good lads in, I wouldn't want to come back," he said.
Since taking over the London club in November, Redknapp has bemoaned the discipline of some of his players.
He added: "I don't need to come to work every day and have that aggravation. I want to get a group in willing to come, learn and take a bit of pride in what they do. Hopefully I have support from the board and we have to see what players we can find."
Defender Jose Bosingwa was fined in December for refusing to be a substitute when Rangers beat Fulham 2-1, while midfielder Stephane Mbia was fined earlier this month for his conduct on Twitter.
"I don't want people coming in late and me fining players every day," Redknapp said. "I want to put a team together where I can look forward to coming into work.
"They seem to be late every day, that's how it drags on and that's what it's been like since day one at this club.
"One player got fined more this month than he got in wages - and, believe me, he earns plenty of money."
Club chairman Tony Fernandes admitted earlier this month that he had been exploited by agents in signing players to bolster the squad.
Redknapp brought six players into the club in January, including Christopher Samba and Loic Remy at a cost of more than £20m.
However, the former Tottenham manager still believes the current side may not finish in the top half of the Championship next season unless changes are made.
"It's going to be hard because you've got to build a team," said Redknapp.
"I've only had to do that once, probably when I was at Portsmouth. We managed to get some lads in with great attitudes who were just fantastic and managed to win the league. I've got to get the same type in here now if I can."