Rafael Benitez and David Moyes both beginning new chapters
By Owen Phillips
BBC Sport at Stamford Bridge
Last updated on .From the section Football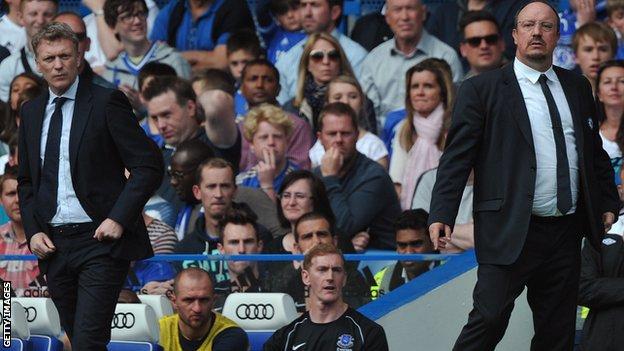 Rafael Benitez left Stamford Bridge on Sunday night with a Europa League title tucked safely in his back pocket and Champions League football assured for his successor.
Surely Chelsea's latest temporary boss could point to a job well done after seven turbulent months in charge. The Spaniard's much-discussed CV certainly looks healthier following the midweek victory over Benfica and Sunday's breathless 2-1 win over Everton.
But there was no outpouring of appreciation from supporters - grudging or otherwise. Rafa did not join in the lap of honour - maybe because he feared a negative reaction. The celebratory mood was for the players, their families and the fans, he insisted.
The other manager leaving this particular corner of west London after his final game in charge hasn't won a trophy in 11 years.
But Everton's leader, and soon to be Manchester United boss David Moyes, remains a massively popular figure on Merseyside.
The gratitude and love for their manager was obvious from the initial reaction to his understandable decision to swap Goodison Park for Old Trafford.
It was abundantly clear at the club's end-of season awards on Thursday night.
And it was palpable in his final game as Everton fans loudly sang the name of their manager for one last time. "He's got red hair, we don't care, David, David Moyes."
Stats can be incredibly deceiving. And to compare the two jobs in terms of titles would be utterly ridiculous.
Under Moyes, Everton's achievements are arguably even more impressive than anything Chelsea have managed under billionaire owner Roman Abramovich.
During his reign, they have competed on a level they had no right to.
They have tasted Champions League football and reached an FA Cup final - where they lost to Chelsea. They have come agonisingly close to winning silverware and managed top-eight finishes in nine of the 11 full seasons under the 50-year-old Scot.
They have spent wisely - as shown by another superb display from former Wigan and now England left-back Leighton Baines. Everton's player of the season has played every minute of every league game this season and his level of performance has matched his durability.
They have three current England internationals in Baines, Leon Osman and Phil Jagielka and players coveted by many top sides.
Moyes leaves a squad bristling with talent and a clear togetherness.
"Whoever takes the job will have a lot of pleasure working with them because they're honest, whole-hearted, have great energy and are a really good team as well," Moyes said.
"It's emotional because it's the last time I walk away from the players but part of the job is you move on. It's rare to stay in a job for 11 years so I'm thankful for getting that opportunity and hopeful they're in a strong position to push on."
That togetherness is at least one thing that he shares with Benitez, whose main achievement and legacy could well be leaving a squad that is happy and healthy.
Despite playing a mind-boggling 69 games this season - Oscar played 79 for club and country - the creative trio of Juan Mata, Oscar and Eden Hazard drove Chelsea forward in the closing stages of an exhausting campaign.
Cesar Azpilicueta established himself as the first-choice right-back; Frank Lampard slowly regained his sharpness and confidence and became the club's all-time record goalscorer. Even Fernando Torres looked the part and began scoring some crucial goals.
Benitez certainly believes the next Blues boss will inherit a "fantastic squad".
"I have left a team with more experience, more character, scoring goals. It will be good for the next manager," he said.
However, if you were being harsh, the Interim One - as the anti-Rafa Blues brigade still call him - only won Europe's consolation prize thanks to a fortunate last-gasp win over Benfica following an unconvincing performance.
They failed in the domestic cups, losing both semi-finals - including a two-legged defeat against Swansea; they ended up 14 points adrift of champions Manchester United when the gap was only six with a game in hand when Benitez took over in November.
And they only scraped into the Champions League places.
The loud calls for Jose Mourinho's return resurfaced during the lap of honour.
Rafa wasn't there but several players have come out in support for their departing boss.
Gary Cahill and David Luiz - whose mum wore a Luiz wig on the walk around the pitch - thanked him and praised him for the job he did.
But at least the manager so viciously booed into the dugout for his first game in charge in November was not singled out for abuse. Benitez's previous comments while Liverpool manager riled Chelsea's fans and many could not forgive and forget.
Benitez said: "The majority of fans were positive in the end but we couldn't change the opinion of some."
There was very little, if any, anti-Rafa chanting. But tellingly there was no pro-Rafa singing either.
But less than half a mile away from the ground, a busy London tube carriage offered a different perspective.
"He did a job in the end," said one Chelsea fan.
"We played some nice football and looked better under him. It's sad the way it went," said another supporter, draped head to toe in Chelsea paraphernalia. "He could never win though," she added.
And what about Everton? They need a proven Premier League manager. Benitez knows the area of course.
Even Rafa ruled that out in his post-match chat. Strange things happen in football but not that strange.
"I quite fancied having Moyes," another Chelsea fan added. "I'm not convinced about Jose coming back. We were in a mess when he left and Moyes has done a great job at Everton."
Let's not confuse matters any further.