Malaga have second year of European ban waived by Uefa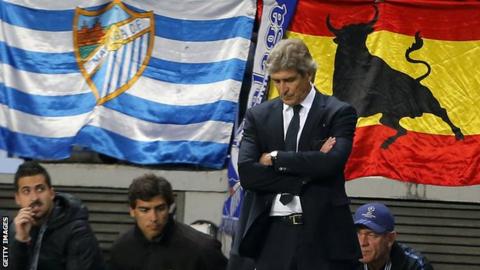 Malaga have had the second season of a potential two-year suspension from European competition lifted.
The Spanish club, who are refusing to comment on reports that manager Manuel Pellegrini is set to join Manchester City, were given the ban by Uefa in December because of unpaid bills.
Malaga are banned for a season if they qualify within the next four years.
But they are now clear to compete after their following qualification having proved they have no outstanding debts.
Uefa is trying to stop clubs spending beyond their means through Financial Fair Play.
Pellegrini's Malaga, currently sixth in La Liga, reached the Champions League quarter-finals this season after defeating AC Milan and Porto.
As well as being banned from Europe in the next season they qualify in, Malaga were fined 300,000 euros (£244,000) and faced a further season's suspension unless they could prove by the end of March that they had settled outstanding payments to other teams, staff and tax authorities.
However, the club have confirmed Uefa has accepted they have complied with those requirements.
"Malaga football club has today received communication from Uefa that its financial control committee has confirmed that, after an analysis of the situation of the Martiricos club on 31 March, 2013, it leaves without effect the second conditional year of suspension against the Andalusian club," said a statement on the club's website.
Malaga are appealing against the initial decision taken by Uefa to the Court of Arbitration for Sport (Cas) as they try to get the entire ban overturned - and they have been awarded a licence from the Spanish Football Federation to play in Europe next season should that appeal be successful.
Pellegrini, 59, is a front-runner to take charge of City after the 2011-12 Premier League champions sacked Roberto Mancini on Monday.
The Chilean has said no deal had been agreed with City.
Malaga newspaper Malagahoy has reported that Pellegrini will leave the club this summer to sign a two-year deal with City.