Jamie Carragher: I always knew this was my last season

Last updated on .From the section Football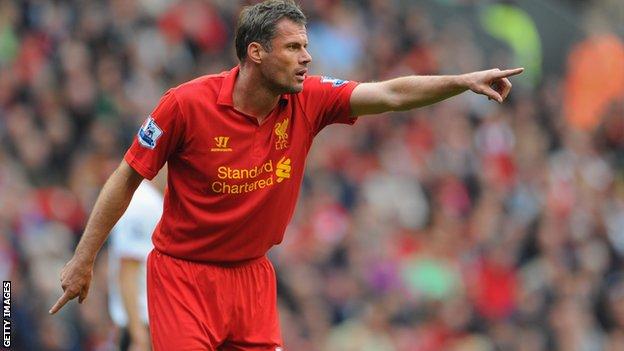 Jamie Carragher will play his final game for Liverpool against QPR on Sunday after 16 years at Anfield.
The 35-year-old has made more than 700 appearances, winning the Champions League, FA Cup, League Cup and Uefa Cup during his career.
Here, he talks through the highs and lows of his illustrious career.
ON RETIREMENT
"The more I've been in the team, the more I've wanted to stick with my decision and go out playing. I've been quite fortunate really that at the time that I announced it, I kept myself in the side.
"I can go out playing, which is something I'd prefer rather than maybe stay another year and be in the stand, on the bench or wherever it may be. It's nice that I'm in the side and people are saying I'm doing well and why not stay for another year?
"It's better than them saying you should have gone a year ago. I prefer it to be like that and get out while it's going well because it can easily change.
ON EMOTIONS
"People keep asking me how I will feel - the answer will come after the game. I'm just looking forward to getting my tickets sorted and hopefully get a win, then I can look back and give you a better answer. I won't be crying, put it that way."
ON WHEN HE DECIDED TO RETIRE
"About 12 months ago, the end of the season. I was in and out of the side with Kenny. I was thinking about it in the summer but I had a year to go and a new manager coming in. I knew then it was always going to be my last season."
ON HIS BEST MOMENT
"Istanbul, nothing will beat that - the Champions League final. There's no point going over the game, I think we all know what happened that night. It's difficult to ever top that.
"We've never won the league, which is a disappointment; if we'd have won that maybe I could have compared the two. We've won FA Cups, Carling Cups, the UEFA Cup but nothing compared to the Champions League. It's the biggest and best trophy that you can win as a footballer in club football. It's what we achieved."
ON HEROES AND INSPIRATIONS
"When I first got into the side, I'd say John Barnes, he was the captain and a great player - one of the top players to ever play for the club.
"As I came into the side a bit more I'd say Steven Gerrard, even though he's younger than me. He's an inspiration, not just for younger players. It doesn't matter if it's a younger player or an older player. You watch the way he plays, what he's done for us and how he's won us a few trophies - he's added to my medal collection. I'd say those two."
ON SUCCESS
"If someone had offered me the chance to be here until the end of my career - the trophies, the big games we've played and won, the stadiums I've played in - I'd have bitten their hand off for that.
"I'm very lucky to have played with some great players, top managers and given the opportunity to experience those wins and sometimes losses. I've been very lucky."
ON REGRETS
"I wish I'd won the league. But we weren't good enough, all of us. There's no fancy reason or excuse, other teams in that particular season were better than us.
"A couple of times we went close but it was Manchester United or Arsenal. It's not something I lose sleep over, I've been very lucky to achieve some of the things I have.
"If you look at everyone, there's always something someone hasn't done. There's always more to achieve."
ON MANAGEMENT
"I've never ruled anything out or in. I'll go down this road (media) for a couple of years, I'll see if I enjoy it or if I'm any good at it, and see where it takes me.
"I've been playing football all my life and I'm looking forward to doing different things, and seeing where it takes me."
ON WHAT HE WILL MISS MOST
"People automatically think of Anfield, I think of this place [Melwood]. This is where you come every day, this is where I've been coming since I was nine years of age. Anfield is sort of the icing on the cake where you go at the end of the week or every couple of weeks.
"It's special but this is where you come every day, the people you see; the people on the gate, the girls upstairs in the canteen, Ann on reception who is the only one who has been here longer than me - she's just pipped me. It's probably coming here and the characters and people you meet every day. You'll have to fill that void."
ON COMING BACK?
"Once you're done, you're done. I'm sure I'll be welcome to come in for my lunch one day and watch training, but I don't think it's something I'll be doing.
"The manager has known for a while I'm retiring, so I'm sure he's got plans in place and players that he wants to bring in, ideas of what he wants to do."
ON GERRARD
"I'm probably more concerned about who he's going to sit next to on the coach on the way home. I had that problem at the weekend coming back from Fulham when he wasn't there. I was on my own."
ON THE NEXT CARRAGHER AND GERRARD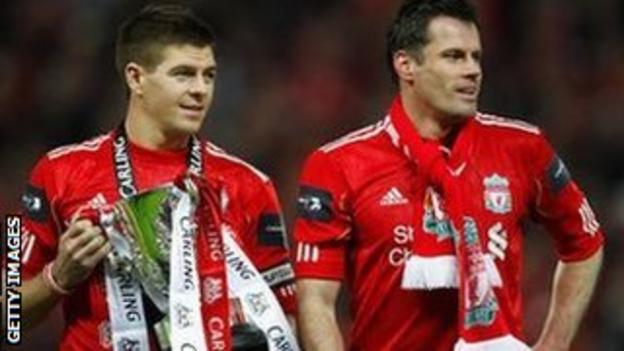 "Every club will say they want to bring players through from the academy, that's why you have academies and put so much time and money into it.
"But the players have got to be good enough. If they're good enough, brilliant - get them in. It's always good to have a few local lads in the side. That's the aim of everyone."
ON THE FUTURE AT LIVERPOOL
"I'm always positive about the club. The last few years haven't been great for us, with league positions and missing out on the Champions League.
"But with the new manager coming in and the run we've been on in the second half of the season, it gives us a lot to look forward to for next season."
ON HOW FOOTBALL HAS CHANGED
"The sports science side of it has come on more than anything; doctors, how to train and all this type of stuff. I think that has been the big advance in the game during that time."
ON ENGLISH FOOTBALL
"Four or five years ago, the Premier League was its best - I think it's dipped a little bit at the moment. A few years ago, ourselves, Chelsea and Manchester United were always close to winning the Champions League for two or three years.
"I think that was the height of the Premier League - hopefully that's something that I'll be able to talk about next season and we get the Premier League back up there. It would be nice to see some more top players coming in and give the league a little bit of a boost."
Watch the full interview on Football Focus on BBC1 at 12.15 on Saturday