Bobby Tambling: Chelsea 'great' Frank Lampard proved me wrong

Last updated on .From the section Football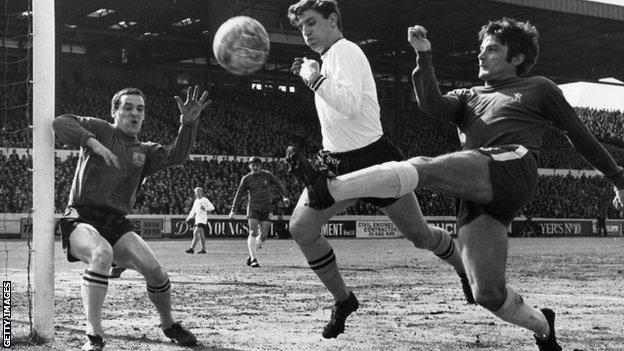 "I thought we had a typical West Ham poser in our midfield. Boy, has he proved me wrong."
A warm smile spreads across the face of Bobby Tambling, Chelsea's second highest goalscorer, as he begins to talk about his friend Frank Lampard.
The 71-year-old has had a week to come to terms with losing his status as Chelsea's all-time leading scorer - a record he held for 47 years.
His admiration for Lampard, the man who surpassed his record of 202 goals, is obvious, but it took time for him to realise just how good he would become.
"I have never said this in public, but when I first saw Frank in the blue shirt of Chelsea he was a very different player to what he is today," he told BBC Sport.
Throughout our interview, the respect Tambling has for Lampard as a man is clear, matched only by his admiration for the talent and tenacity of a player he now believes is the best in the club's history.
"Frank is a fantastic player, but he is also a gentleman off the field," explained Tambling.
"He plays in midfield like a striker and that is why he joined my club - the 200 club - and has now overtaken me. You can see that in the way he moves, the way he anticipates. His anticipation makes him special.
"Frank will always anticipate the goalkeeper is not going to make a clean catch so he is a yard or two in front of everyone. He is probably the best player Chelsea have ever had."
We met on the day that Lampard signed a one-year extension to his contract at Stamford Bridge, worth around £120,000 per week.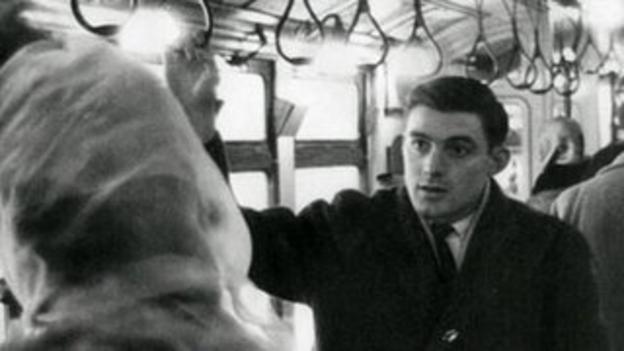 It is a far cry from the £10 per week (£8 in the off-season) which Tambling earned. As a player he used to catch the train and then the Tube to matches, mixing with fans before and after games.
And this is a man who scored on his Chelsea debut as a 17-year-old and went on to be their top scorer for five seasons in the 1960s.
"I have a photo at home of me on the train on the way to a game - 'strap-hanging' they used to call it," he said.
"That was how we travelled and we weren't upset about it - that was our life.
"The most embarrassing times would be when someone would spot you and send over their young lad to ask for your autograph. Then you would spend the rest of the journey with people looking at you thinking 'Who is that?'
"But I can honestly say, certainly of the Chelsea lads, we would have played for nothing. We were doing what we loved doing, and then on top of that getting paid."
And he means it. Honest, warm and delighted to be back on his old stomping ground, Tambling is in his element.
He is back in SW6 to reflect on and remember a career which saw him play alongside the likes of Jimmy Greaves and Peter Osgood during the swinging sixties. He became Chelsea's main striker in 1961, after Greaves left for AC Milan, and remained their spearhead until moving to Crystal Palace in 1970.
We begin to talk about the record that is no longer his.
"Can I just make one thing clear - I don't talk about Frank Lampard any more." His answer is followed by a wink and a mischievous chuckle.
"As the games ticked on this season I thought I might get be able to keep my record for the summer, but I can honestly say I am pleased.
"When you have a record for 47 years you grow accustomed to having it, but to lose it to a guy like him, a player like him - you couldn't ask for better, really."
Where was he when Lampard scored twice against Aston Villa to take him beyond Tambling's record? "In a quiet room in a pub in Ireland [where he lives]. There were a good few friends around the table, it was a great afternoon."
As Tambling watched the match unfold, he began to hear the groups on the tables around him discussing Lampard's pursuit of the record, not knowing the man who had held it for six decades was sitting only a few feet away.
"When Frank got the first goal against Villa, there wasn't a big yell because I think everyone around our table felt for me," he said.
"When he scored the second one it was even quieter. But I have been prepared for this day for a long while now - five or six years ago, I thought he would be the man to break it."
When I suggest that is quite a compliment coming from him, he responds: "I don't know about that. If he put his trophies on one end of a table and I put mine on the other, I think the table would lean his way."
Tambling and Lampard have become good friends in recent years. They have more than just goals in common - they have both fallen for the charms of Irish women, who are now good friends - and there is a warm and genuine friendship away from the pitch.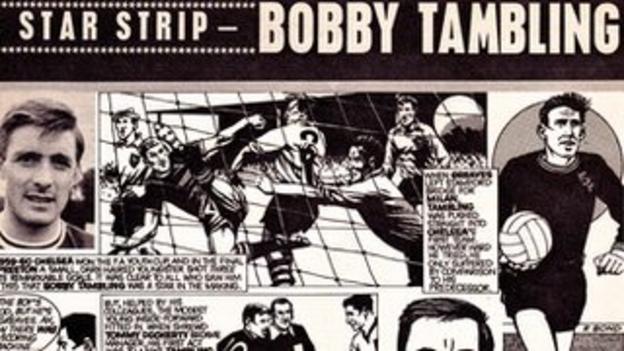 Throughout Tambling's recent illness, a battle with pneumonia and then a painful and debilitating leg condition, the England midfielder was in touch on the phone and in person.
But having been unable to leave his hospital bed in Cork for three months earlier this year, he is growing stronger by the day and can now walk again, with the aid of crutches. I ask about his friendship with Lampard.
"We have grown close over the last few years because I think we both realised this was a day that was going to come," he said.
"We always have a joke with each other, I say 'come on Frank, rush along.' My partner would always say 'come on Frank, don't take any more penalties'.
"Before the Swansea game we saw Frank and John Terry and she said 'Frank, will you do something special for me today?' He said 'Of course.' She said 'Don't take any more penalties'. Frank turned to John and said 'If we get any more penalties, you take them'.
"John turned round and said 'Not after the last one.' It has been that sort of friendship and we have got closer and closer. I am not in England that often but whenever we can chat, we do."
Emotion is never far from the surface throughout our conversation. Three weeks ago, Tambling took centre stage at Stamford Bridge during half-time at Chelsea's 2-0 victory over Swansea.
"It was very emotional," he said. "I have been out on the pitch two or three times - I call it walking the walk. But the Swansea game was something very, very different. I had not been out of hospital long, my partner Valerie and her brother were both there with me and we all got very emotional, because the applause seemed to go on for ever.
"We were very close to one end of the ground, the stand was still very full and you could see the warmth they had for you and that made it even more emotional.
"The three of us had tears in our eyes and when we got home we told people about it and they said 'Don't worry, we were in bits here'. It was a tonic for me, a special tonic. The first week I was out of hospital and back where I love being."
Tambling enjoys the quiet life these days at his home in the picturesque fishing village of Crosshaven in the Republic of Ireland. He is still a football fanatic, a man who loves the game above all else and the club where he made his name.
"I always remember walking through the old Stamford Bridge gates when I first joined, thinking 'This is a proper club'," he added.
"I used to bring over young lads from Ireland and walk them in from Fulham Broadway. We would turn the corner by the West Stand and their faces would just be filled with astonishment and excitement. That is how I still feel."
Perhaps it was a text from Lampard's fiancee, Christine Bleakley, last Saturday that summed him up best.
In the moments immediately after the record had passed from one Chelsea hero to another, a message arrived saying, "Bobby is still a legend - always will be." Few would argue with that.