Gus Poyet: What next for Brighton & Hove Albion and their manager?
By Rob Stevens
BBC London & South East Sport
Last updated on .From the section Football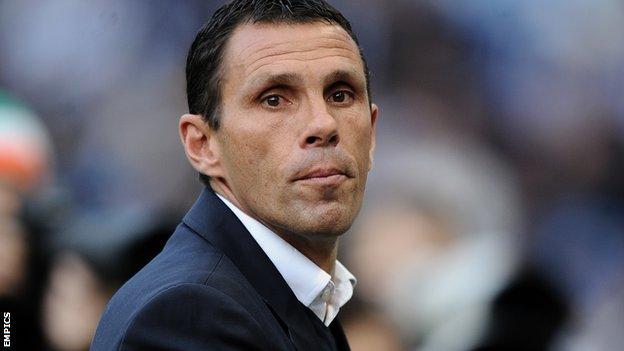 Brighton & Hove Albion manager Gus Poyet was suspended by the club on Thursday night and now looks set to leave the Championship outfit.
The Seagulls also suspended assistant manager Mauricio Taricco and first team coach Charlie Oatway pending an internal investigation.
The club are set to investigate whether Poyet has breached his contract; with his comments in the wake of this week's play-off defeat by Crystal Palace and his refusal to deal with the club's retained list under the spotlight.
The 45-year-old told BBC Sussex he would have to consider his future at the Amex Stadium following their failure to reach the play-off final.
Poyet's comments have split fan opinion, with the Uruguayan previously having the backing of supporters.
Brighton fan Paul Samrah, who was heavily involved in the Falmer For All campaign which fought for planning permission for their new ground, says Poyet's suspension has potentially made the club "the laughing stock of football".
Samrah told BBC Sussex:"One minute we were on the verge of getting to Wembley and the club's biggest match for 30 years and the next we are suspending managers and coaches.
"Clearly there is a breakdown in communication on both sides. Having Charlie Oatway and Tano [Taricco] suspended as well, it probably goes a bit deeper.
"It is a great shame for a club which we have built up, fought for and which is supported by a generous chairman.
We were aspiring for the Premier League and suddenly it has all fallen apart.
"We have a South American manager who speaks his mind, a bit too publicly for all concerned clearly.
"That has upset the board and as a result we are in the situation we are."
John Hewitt, the chairman of Brighton's supporters' club, added: "It's very sad that probably one of the best managers the club has ever had, now it looks as though it will end on a sour note.
"We have to remember how good he has been for us. Rightly or wrongly the club have made this decision.
"They have to make a decision as we can't sit in limbo.
"It was always going to be a matter of time before Gus did move on to something bigger and better."
Poyet has been in charge of Brighton since November 2009, winning the League One title in 2011, and this season he guided the Seagulls to their highest league finish since 1983.
The 45-year-old has benefitted from the financial backing of Albion chairman Tony Bloom and the move to the Amex Stadium in summer 2011.
However Poyet has often spoken of his ambition to manage in the Premier League, and even internationally, although he turned down the chance to take over at Reading in March.
Former Brighton defender Gary Chivers, who played for the Albion between 1988 and 1993, says that chairman Tony Bloom's desire to see the club improve gradually rather than go all-out for promotion to the top flight is the right approach.
"The chairman has backed the club to the hilt," Chivers said.
"He's done it in such a good way and has dealt with all the politics brilliantly.
"Maybe we're not moving fast enough for Gus. It may be a lack of communication between the pair of them.
"If Gus feels he needs to move on where is he going to go to?
"The only place is the Premier League and some of those clubs are not as big as Brighton & Hove Albion.
"Gus has obviously identified what he needs for next season [to challenge for promotion] but the build-up needs to be slow for Brighton."
BBC Sussex's Brighton & Hove Albion commentator Johnny Cantor described Poyet's comments after the Palace game as "slightly unedifying".
"You start to think were those comments born out of frustration as they hadn't won, or out of ambition for him looking for a bigger job," Cantor said.
"We don't know whether he may have ideas about other clubs.
"This week Fulham were reported to have him on their radar.
"He is a very ambitious person."
Cantor feels Reading's approach in March could have increased Poyet's yearning to manage in the Premier League sooner rather than later.
"I think relations have been really strained for about two months and ever since he flirted slightly with Reading," Cantor added.
"He may have been frustrated over not being able to sign certain players at key moments in the season.
"The introduction of the Financial Fair Play rulings mean it will be more difficult for Albion next season, coupled with teams coming down from the Premier League with parachute payments.
"He has done a great job in three-and-a-half years but he has always said he wants to manage in the Premier League.
"From his point of view you feel that has been his motivation, along with doing a good job for the Albion."
Even if Poyet does eventually leave, Chivers is keen to stress that the Uruguayan has helped transform Brighton into a club which can challenge for promotion to the Premier League.
"You can't take away what Gus has done," Chivers said.
"He has come in in his first managerial appointment and done ever so well in the stint he has had in charge.
"We've had promotion from League One and then moved to that fantastic stadium.
"This year we really gave it a go. He has turned the club around."