Adebayo Akinfenwa takes Beast Mode to League Two play-off final
By Chris Osborne
BBC East Sport
Last updated on .From the section Football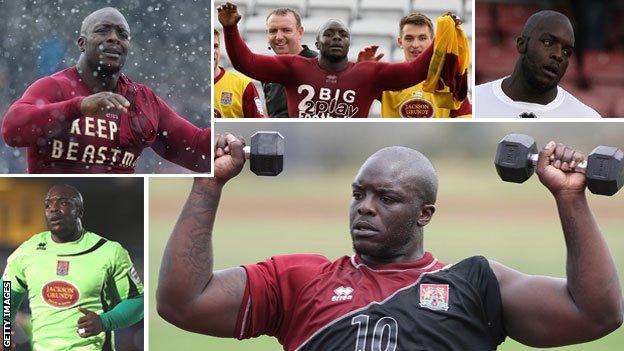 For a heavy guy, Adebayo Akinfenwa's personality is as light as a feather.
The 16-stone Northampton Town striker, 396lb bench presser, creator of "Beast Mode" and "fat Eddie Murphy" could carry the weight of the world on his broad shoulders and still be as cool as a cucumber. Albeit a massive one.
After coming through a torrent of racist abuse as an 18-year-old playing in Lithuania and soaking up constant jibes for his ample frame, the 31-year-old will not be losing any sleep over Saturday's League Two play-off final against Bradford at Wembley.
In fact, he will most likely be drawing on his self-constructed ethos - titled Beast Mode On - to inspire his effort of promoting the Cobblers to League One.
"Beast Mode On is a state of mind. People will always focus on my size and think 'he's a beast', that's what Beast Mode is," the bulking frontman, squeezing into a fold-down stadium chair at Northampton's Sixfields ground, told BBC Sport.
"But Beast Mode has been since the day I was born. It's about applying yourself and defying the limitations people put on you.
"People said I'm too big to play football. One hundred goals later, I'm not. There are no limitations to what you want to do."
One hundred and twenty seven goals from 373 games across nine different Football League clubs, to be precise.
That career was set upon from five years of age, with a determination to emulate his hero John Barnes.
Born to Nigerian parents in London - a Muslim father and Christian mother - Akinfenwa's outlook, his relaxed demeanour and nonchalant disposition, are imbued with the faith he attached himself to as a child.
"When Ramadan was on dad made us fast and then I had to read the Bible every day and go to church," he said.
"My faith came from my mum, I swayed towards the Bible - mum drummed it into us every day.
"I'm not a saint. I go through troubling times. But my faith does get me through.
"People say I'm relaxed - I'm blessed in what I do. I can make thousands of people happy with what I do.
Despite forging a career around the lower reaches of the Football League, the seeds of Akinfenwa's professional journey were planted in the Lithuanian port town of Klaipeda.
After trials with clubs at home, including nine months at Watford, and being told "he's got the ability but maybe he's a bit big", the beast moved east in search of a team and was stunned by what would greet him at FK Atlantas.
Akinfenwa recalls the chant his own supporters would sing at him in his first game, littered with foul, offensive and racial language. It almost persuaded him to zip up his suitcase and head back to England.
"We're going back 13 years. Coming from London, where nobody would disrespect me, this was just brazen," he said.
"I was by myself, aged 18. I was the first black person in the league and one of the few black people in the town I was in.
"I didn't expect it at all. To the level it was on my first game, I just could not believe it. I got on the phone to my brother and said 'bruv, these guys they're racist, I'm coming home'.
"He said, 'I'd never tell you to stay somewhere you don't want to be. But you can leave and let them win or you can stay and prove them wrong'.
"I slept on it and I was like 'there ain't nobody going to run me out of nowhere'.
"We got to the cup final, I scored the only goal and it changed. I got abuse from away fans but my own fans took to me. I came back thinking 'if I can handle that there is nothing in the football world I can't handle'."
These days the former Swansea and Gillingham man is more accustomed to flak for his size, rather than the colour of his skin, and, to a certain point, welcomes the attention.
"I laugh at that. That does not faze me whatsoever," he said.
"It would affect me if I wasn't hitting the goals I was setting for myself. I feel my goalscoring record sits very nicely.
"If fans want to heckle me, that's cool. Once I'm off that pitch and you try to disrespect me to my face it's a different story.
"My favourite chant is 'you're just a fat Eddie Murphy'. When I heard that I could not stop laughing. I would prefer a muscular Eddie Murphy.
"But when they give me stick I take it in, wrap it up and give it back."
By his own admission, Akinfenwa "was always a big guy", and his size is supplemented by his thirst for the gym.
Egged on by his brother, Akinfenwa once bench pressed 180kg in the presence of a journalist and his power was recognised when a popular football video game made him the strongest player within their virtual world.
"Every once in a while I have to catch myself and remember I am a footballer. Football's about running around - some people will say I don't run around, but I'll argue that point," he said.
"The manager reins me in because he knows I like to push some weights. I know what my body needs to get through a season."
Akinfenwa, who hopes to mentor children when he retires, has never been at any one club for more than 30 months, apart from Northampton where across two spells he has accrued four and a half years of service.
In his first full season at Sixfields, the 2008-09 campaign, he suffered relegation to League Two and, with his contract expiring this summer, a return to the third tier could possibly be his last contribution to Aidy Boothroyd's side.
"This is like my home away from home. I can't speak enough about how the fans have taken me to their heart," he said.
"On Saturday we can't get too emotional, as hard as it is. If we can do that I truly believe we can win. It would be beautiful and a fitting tribute to right a relegation with a promotion."