Matt Bloomfield column: Loyalty to Wycombe and working in Kenya

By Matt Bloomfield
Wycombe Wanderers midfielder
Last updated on .From the section Football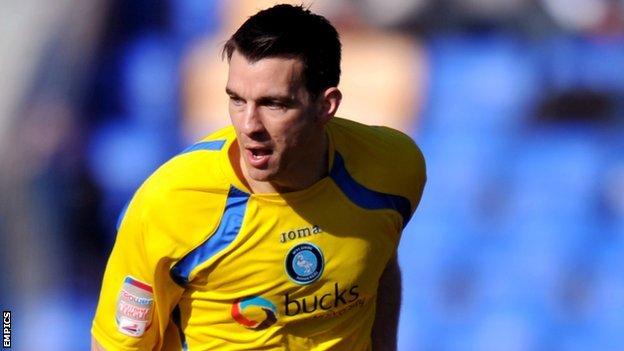 I am truly honoured to be entering my 10th year of service at Wycombe Wanderers next season, and the chance to have a testimonial is just amazing.
The feeling of immense pride when I committed to the club was really hard to describe. I have agreed many contracts in the past
I am extremely thankful to the club that, after spending most of the season injured, they have still given me a contract to enable me to get myself fit and playing again. In some ways, I suppose it's a little repayment for the previous years of loyalty.
It is not all about sentiment and the testimonial though, not by a long shot.
I am employed to play football and I am genuinely excited by the prospect of returning to fitness next season. I am 29 years old and I still have a deep burning desire to improve and succeed on a daily basis.
I feel like I have still got many years of football left in my legs, and if nothing else, these past eight months have proved to me that I need to make sure I drag every last ounce of ability and energy out of my body for as long as I physically can.
Could I have earned more money by moving around during my career? Yes, I expect so, but nothing could have replaced that feeling when I sorted my new contract.
Money has never been my primary motivating factor. I would say that my main aim around the negotiating table has always been the insistence for fairness. That is it.
During the rehabilitation it could have been so easy to lose that desire. The will to work in the gym, mostly on your own, has to be huge in order to return in the condition required.
I have still got a little way to go, but day by day I am seeing improvements and that is all I need to continue.
I have also seen many players over the years who are 'fit' when they return, but not fit for purpose. There is a major difference in my eyes and the harder you work, the closer to full fitness in its truest sense you become.
I am also very fortunate to have been given the chance to travel to Kenya this summer to volunteer in a school for a week.
There are running repairs to the walls of the school that need to be made and we will be helping out in the classroom as well as working in the kitchen preparing food and feeding the children.
I must admit to being slightly apprehensive, but in the main I am very excited about the opportunity that has been placed in front of me.
It's not often you are given a chance to participate in a trip like this, so I grabbed it with both hands. My rehab work will come with me though!
This year's play-offs have been the most exciting for many years. The level of excitement has continued from the injury time played at Griffin Park between Brentford and Doncaster in the final league game of the season.
Brentford's League One play-off game with Swindon was equally exciting and they will be so pleased that this time the result went their way.
Just when we thought that we could not possibly see anything to match what happened at Griffin Park, Leicester and Watford served up something just as dramatic at Vicarage Road in the second leg of their play-off semi-final.
It was simply breathtaking and something that the supporters of both sides will remember for a long time, albeit for drastically different reasons.
Bradford's performance at Burton, who have such a formidable home record, is also of note.
They have showed time and again this season that they are a powerful team in big games and their final with Northampton is sure to be a mouth-watering tie.