David Platt leaves Manchester City assistant manager role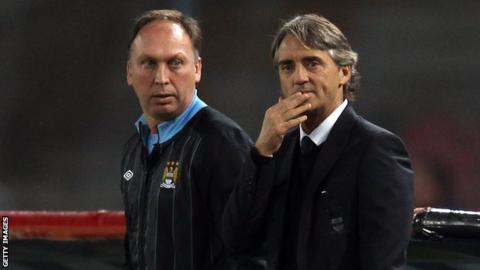 Manchester City have announced that David Platt has left his role as assistant manager at the club.
Platt's departure follows the sacking of manager Roberto Mancini.
Former England midfielder Platt, 46, was offered the chance to stay on at City, but turned it down.
"With regret Manchester City announce that David Platt has this afternoon left his role as assistant manager at the club," read a statement published on City's website on Tuesday.
"David was offered the opportunity to continue his work with us but has declined the invitation. He has decided to leave his role with his close friend Roberto Mancini."
Platt, who played alongside Mancini at Sampdoria in the 1990s, was appointed to City's coaching staff in July 2010.
Under Mancini, City lifted the FA Cup in 2011 - their first major trophy in 35 years - before winning the Premier League title on the final day of the season in 2012.
But the club failed to win a trophy this season, surrendering the league title to neighbours Manchester United and losing 1-0 to Wigan in Saturday's FA Cup final.
The statement added: "David has made a significant contribution to the club's success and we wish him well with his career wherever that now takes him."
Platt, who won 62 England caps, made his name at Aston Villa, where he was named the PFA player of the year in 1990, and went on to win the Uefa Cup with Juventus in 1993 and a Premier League title medal with Arsenal in 1998.
His managerial career began with a brief spell at Sampdoria in 1998. He joined Nottingham Forest the following year, staying until 2001, and then had three seasons in charge of the England Under-21 side.