Roberto Mancini: Manchester City fans deliver mixed verdict
By Nabil Hassan
BBC Sport at the Madejski Stadium
Last updated on .From the section Football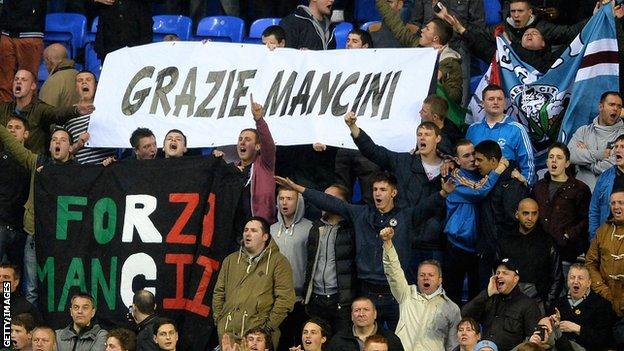 Complicated, indifferent, exceptional, legendary.
Those were just a few of the words used to describe sacked Manchester City manager Roberto Mancini by the club's fans outside a rain-soaked Madejski Stadium before Tuesday night's Premier League fixture at Reading.
Despite very little to play for, they travelled in their hundreds to cheer on their heroes and pay tribute to the man who delivered the holy grail of a first league title in 44 years.
"Grazie Mancini" read one banner - which translates as 'to express thanks'.
"He gave us the best three years out of the past 40," one fan told me outside Reading's stadium.
But while that memorable day at the Etihad Stadium almost exactly one year ago, when City beat QPR 3-2 to claim the title in dramatic fashion, was meant to signify a power shift in English football, it has not materialised.
Just 366 days later and City find themselves managerless and with only the Community Shield to show from a season's endeavours.
"Mancini was a genius on the pitch, and weak off it," another fan told me on Tuesday night.
The hours before Tuesday's match at the Madejski Stadium perhaps summed City's difficult and complicated campaign.
Assistant manager David Platt's departure was announced in typically atrocious timing - less then an hour before kick-off with a statement on the club's official website.
Then came the news that the press would not get to speak to any player or caretaker boss Brian Kidd after the game. The gloomy skies and pelting rain seemed appropriate. Manchester City were feeling as blue as their ever so famous moon and 'shutting up shop'.
It took just 30 seconds into the game for Mancini's name to ring out from the away end as Kidd cut a glum and lonely figure on the bench.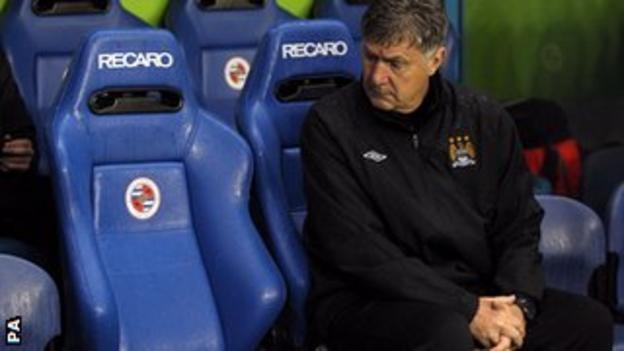 On the pitch City tried to lift the gloom. Carlos Tevez and Sergio Aguero proved they are still one of the most formidable partnerships in the Premier League as they carved out a number of early chances.
But if City fans expected an emphatic response to the lacklustre and embarrassing defeat by Wigan in the FA Cup final last weekend - what they got instead was a workmanlike but deserved victory against already relegated Reading.
This was a performance like many others over the past few months but it was rescued by a rare moment of magic, with Aguero finishing off a quite wonderful team move by the visitors.
It prompted more chants of Mancini's name as the opening half drew to a close and while both teams tried in vain to make the second half entertaining for supporters, the rain prevented this from being a memorable spectacle.
It was, however, a victory and some comfort for the fans who made the long trip south on a miserable Tuesday evening, just days after an expensive and disappointing trip out at Wembley on Saturday.
City keeper Joe Hart, who was notably publicly criticised by his former boss, pulled off a string of fine saves, as did his opposite number Alex McCarthy.
City striker Edin Dzeko, a second-half substitute, delivered his customary late goal to double City's lead and seal the victory as the players left the pitch to chants in support of Mancini.
So with the game over and City now officially 'post Mancini' it prompted questions of how his era should be defined.
In a statement on Monday, City stated a need for a 'holistic approach to all aspects of football at the club' as a reason for the managerial change - essentially emphasising the importance of the whole, rather than separate parts. It hinted at poor man-management and a failure to look beyond the first team.
"The problem with Mancini was he was individualistic and not holistic," quipped one City fan on Tuesday.
Holistic is quickly becoming the buzz word that will define the next manager of Manchester City.