Roberto Mancini pays price of failure at Manchester City

By David Bond
BBC sports editor
Last updated on .From the section Football179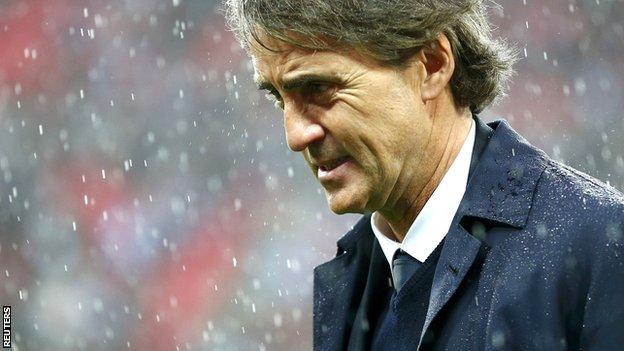 This time last year I stood in Manchester's Albert Square - the imposing setting for Monday night's triumphant farewell to Sir Alex Ferguson - and reflected on what looked like a changing of the guard at the top of English football.
How different it all looks 12 months on.
Ferguson is about to go and Mancini has already departed. One on top and on his own terms. The other forced out, having failed to deliver on the wilder and wilder expectations now ingrained into the Premier League psyche.
United and Arsenal are the exceptions. Here Ferguson and his old rival Arsene Wenger have been afforded the time and space to build something lasting. Nearly every other club talks of wanting to emulate that model whilst they keep the revolving door spinning.
In City's case it is clear that Mancini's confrontational management style had left him isolated at the club. With few friends in the dressing room and other key executives turning against him, City's Abu Dhabi owners felt they had to draw a line under his time in charge. Khaldoon Al Mubarak, the chairman who is the mouthpiece for owner Sheikh Mansour, said it had been a "difficult" decision and that it had followed an end-of-season review the club were conducting.
The world's richest club were forced to move more quickly after news of City's increased interest in Mancini's replacement Manuel Pellegrini started to leak.
Khaldoon met with Mancini on Sunday night - the day after City's shock FA Cup final defeat by Wigan at Wembley. But he wasn't told of the club's decision to sack him then. Instead that news came by phone late on Monday - just as Ferguson and United were getting ready to set off on their victory lap of Manchester.
The difficulty for City was that they didn't want to be accused of burying bad news on the day of United's celebrations or sacking the manager exactly one year to the day after he had won the Premier League title.
Equally, they couldn't leave the matter unresolved ahead of the Premier League game against Reading on Tuesday night.
Whichever way it was handled it wouldn't look good for City and their owners, who pride themselves in doing things in the right way.
But they had reached the point of no return with Mancini, whose lack of silverware at home and stunted progress in the Champions League removed any cover he had left.
So what looks like another knee-jerk reaction from another wealthy foreign owner is actually a bit more nuanced than it might appear. In addition to the lack of progress on the pitch there were also concerns at Mancini's failure to build a club from the bottom up.
His lack of interest, or engagement, with the club's youth strategy undermined him in the eyes of the owners, as did his repeated insistence that the failure to sign Robin van Persie cost them the title.
And so Malaga coach Pellegrini will soon find himself ushered into the hot seat at City, backed by Abu Dhabi's billions and promises to stick with him for the long term. But at the age of 59, is he really the man to build a Ferguson or Wenger-style dynasty?
The statistics will give him little encouragement. Richard Bevan, the chief executive of the League Managers' Association (LMA), says the average term of a Premier League manager is now less than 16 months and falling.
All the major trophy winners from the 2011-12 season have been sacked - a sign that success alone is not enough to buy more time.
How do we explain this? One reason put forward by Bevan is that the role of manager has changed so dramatically that those recruited simply aren't equipped to deal with the demands of operating in the Premier League.
We've known for some time that it was about much more than picking the team and keeping in with the chairman but clubs have become increasingly complex corporate structures with big legal, commercial and financial departments. Those owned by wealthy foreign businessmen not only demand results but expect a different range of skills from their man in the dugout.
Bevan recalls a story where one well- known manager was sacked for not motivating the board and the supporters from the technical area. This was actually written down as a reason for his dismissal.
In this environment how can any manager know how his work is truly going to be appraised? That's one reason why the LMA are to introduce a new degree in leadership for managers which will be run out of the Football Association's St George's Park. The idea that a coaching license is enough to equip the modern manager has clearly had its day.
A degree in leadership wouldn't have been enough to save Mancini from the axe. He paid the price for failing to build on last year's triumph.
What his case has demonstrated - once again - is that there is hardly any margin for error at the very top of the English game.