Motherwell's Michael Higdon picks up April player prize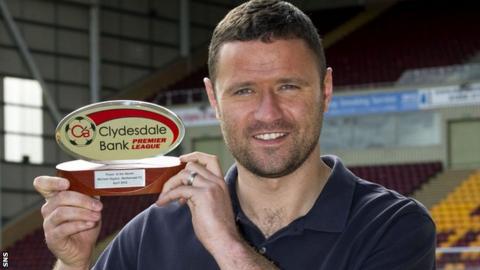 Motherwell's Michael Higdon is the Clydesdale Bank Premier League player of the month for April.
The 29-year-old striker scored four goals in three matches last month as Motherwell cemented their grip on second place.
The accolade comes hot on the heels of his SPFA Player of the Year award.
Higdon has netted 27 times this season but his big night was marred by his subsequent arrest following an incident outside a Glasgow nightclub.
Fir Park manager Stuart McCall has not given up hope of Higdon extending his contract, which expires in a few weeks.
But the striker has potentially lucrative options elsewhere.
"He has loved his time here," explained McCall. "He has different agents putting stuff in his head. It's all maybes.
"And Michael is new to that. He had a really good agent and unfortunately his agent has gone to a job in a club and can no longer be his agent. So I think he has got a lot of people trying to get him a deal and that has probably mixed his head up.
"We have given him our best offer, which is a good offer, and he appreciates that.
"But when you have got four or five agents telling you he can treble or quadruple it, then you have got to listen. It comes to a stage where you have got to make a decision."