Sam Allardyce: West Ham boss signs new two-year contract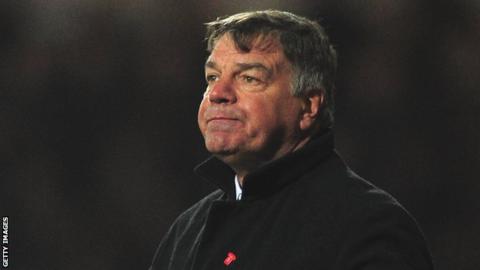 West Ham boss Sam Allardyce has signed a new two-year deal with the club.
"I am delighted to announce that our manager Sam Allardyce has signed a new two-year contract," West Ham co-owner David Gold announced on Twitter.
Allardyce, 58, had always said he would only sign a new contract once the club were certain of survival in the Premier League.
West Ham are now eight points above the relegation zone with only two games remaining.
Allardyce's contract was due to expire at the end of the season.
The former Bolton and Newcastle manager said on Friday that he would be signing a new contract "very shortly".
"I never thought there would be any problem," Allardyce said.
The Hammers recently learned they will be anchor tenants for the Olympic Stadium, and Allardyce said he would be like to be in charge of the team when they move into their new home in three seasons' time.
"If I can last that long, I'd like to be here," he said. "The sack is always around the corner, that's how it is these days."
The club go into their penultimate game of the season away to Everton having won just one of their last eight away matches - though they have lost only once in their last eight at home.