Tottenham Hotspur urge Gareth Bale to sign new contract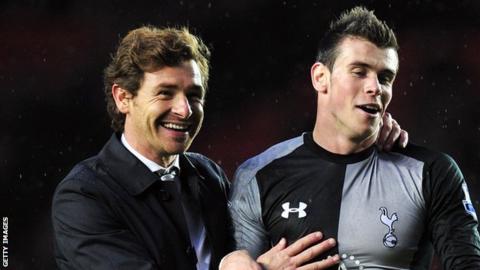 Andre Villas-Boas has urged Gareth Bale to sign a new contract at Tottenham and end any speculation about his future.
Bale, 23, is under contract at White Hart Lane until 2016 but the club are keen to offer him an extension which would improve the forward's terms.
The Welshman has been linked with moves to Real Madrid and Manchester United.
"It would be good for him to sign a new contract," said Villas-Boas. "I think he deserves it for the season he's had."
Bale was this week named Football Writers' Association Footballer of the Year, a fortnight after winning the Professional Footballers' Association's Player of the Year and Young Player of the Year awards.
Only Andy Gray (1976-77) and Cristiano Ronaldo (2006-07) have won both PFA awards in the same season.
It has been a remarkable campaign for Bale, who has scored 20 Premier League goals - 25 in all competitions for Spurs - and whose consistently strong form has attracted transfer interest at home and abroad.
Only Manchester United's Robin van Persie and Luis Suarez of Liverpool - both centre-forwards - have scored more goals than Bale during the current season.
"Obviously we could put to bed every single speculation that's coming out," said Villas-Boas.
"It (a new contract) would be excellent and I think a reward for what he has achieved this season."