David Moyes: Everton face big decision over new boss

By Phil McNulty
Chief football writer
Last updated on .From the section Football364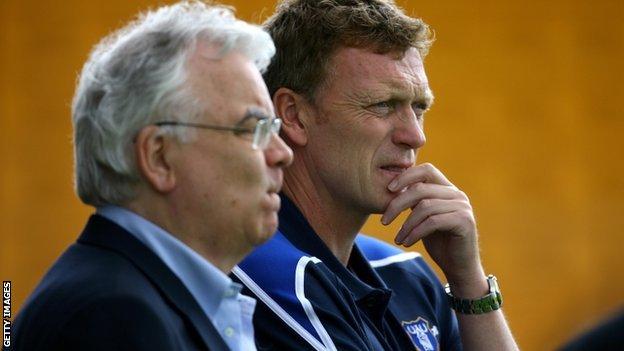 The emotion etched on the face of Everton chairman Bill Kenwright told of the pain of parting with manager David Moyes after 11 years - but there remains an upbeat mood of optimism and defiance inside Goodison Park.
There was shock at the speed of developments as Moyes has spent much of his time recently absorbed in plans for next pre-season and talking over potential summer transfer targets. Kenwright's dismay at the breaking of the bond was obvious.
It may also have been the realisation that Kenwright must now crystallise his thoughts on the search for Moyes' successor, a decision that is as important to Everton as finding the man to replace the retiring Sir Alex Ferguson was to Manchester United.
Kenwright and Everton have reached a crucial moment. He cannot afford to make the wrong call.
Everton may have been taken by surprise by Moyes' sudden departure but the club has been all too aware that his contract was coming to a conclusion without any sign of renewal, and discussions, however informal, had already taken place on who would be the next occupant of the manager's office at the club's Finch Farm training headquarters.
As Moyes' switch to Old Trafford was confirmed, the serious moves to appoint Everton's next manager were already starting to take shape behind the scenes.
Everton's players report back for pre-season training on 8 July but there is the hope they will move swiftly once the right man is identified and have him in place well before then.
No appointment is likely before the end of the season as the men expected to make their final list are currently in work as opposed to out-of-work former managers such as Mark Hughes, who has already made his interest plain, and Martin O'Neill.
This leaves Wigan's Roberto Martinez at the head of the line of succession. Wigan chairman Dave Whelan may have suggested Everton are not the elite club he believes his Spanish manager would consider, but if they are relegated then Goodison Park would look like an irresistible proposition when viewed from the Championship.
Swansea City manager Michael Laudrup will also feature in the boardroom debate after winning the Capital One Cup in his first season in south Wales. The Dane would arguably be the name most likely to appease supporters concerned about potential instability caused by the loss of Moyes.
Laudrup has signed a new deal at Swansea and may just be out of Everton's reach - but it would not be a major surprise if he was the subject of serious interest.
Phil Neville, the Everton captain who is leaving the club at the end of the season, will also be considered but there is a high-risk element to appointing the 36-year-old who, while highly respected and expected to have a bright managerial future, has no experience. It would be the sort of gamble Kenwright may not feel he is able to take.
There is also the distinct possibility that Moyes might take Neville with him to Old Trafford as part of his backroom team. The pair forged a strong relationship during his Everton career and he comes with the added bonus of knowing the workings of Old Trafford from his successful time as a player under Ferguson. He is the rank outsider along with Cardiff City's Malky Mackay.
There are suggestions Celtic's Neil Lennon may be tempted by an offer from Goodison Park while Porto coach Vitor Pereira has made it clear he would come to the Premier League. He would provide a viable option should Everton take the European route and it is believed he would take an offer if it was forthcoming.
So what could Everton offer their new manager? Is following Moyes, so highly thought of for his years of putting Everton in the Premier League's upper echelons, the poisoned chalice?
Everton do not believe this is the case, with the new Premier League broadcasting deal offering them a level of financial stability they have arguably not enjoyed for many years.
Moyes was rewarded with a salary of around £4m a year for his work with Everton and a close look at the club's financial circumstances show some room for manoeuvre for the next man in through the door.
It is likely the big summer departure, probably to Chelsea, will be Belgium midfield man Marouane Fellaini. He has a release clause of more than £22m in his contract and once it is activated, and a percentage paid to former club Standard Liege, Moyes' successor will be handed all of what is likely to be £20m to play with in the transfer market.
Fellaini is also the club's highest-paid player on £75,000 a week and other high earners such as Neville and even reserve keeper Jan Mucha are also expected to be cleared from the wage bill.
Netherlands defender John Heitinga could also depart after a poor season. His stock has fallen but Everton would still hope to bring in around £4m for a 29-year-old who is on a reported £60,000 a week.
The loss of Moyes is a desperate blow to a club where he has been the pivotal figure almost from the moment he walked through the door at Goodison Park in March 2002. This much was clear from the reaction of the devastated Kenwright and there is an understandable sense of worry among this most passionate fanbase.
There is still, however, the feeling that this unexpected development could yet be turned into an opportunity and that Everton can put together a complete package that will entice the man with the right credentials to build on the tireless work put in by Moyes before he received the offer he could not refuse from Old Trafford.