Man Utd are the right club for David Moyes, says Pat Nevin
Last updated on .From the section Football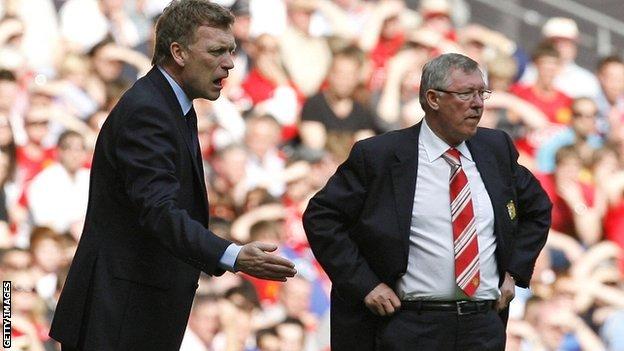 David Moyes has only just been confirmed as Sir Alex Ferguson's successor as Manchester United manager yet there is already debate over whether he is the right man for what is a massive task.
From tactics to transfers, handling the pressure of the job to keeping big names happy, life at Old Trafford for the former Everton boss comes with completely different expectations to anywhere else in English football.
BBC Sport football expert and former Everton player Pat Nevin, who has known Moyes since they were schoolboy team-mates at Celtic in the 1970s, looks at the key areas of management where Moyes will stand or fall.
SYSTEMS AND TACTICS: What can United fans expect?
Do not look at what David Moyes has done at Everton, and the way they play as a guide to how United will play under him.
What managers do is find out the best system that suits the individuals they have. Unless you have a team full of players of the highest calibre, you cannot play a 4-2-3-1 formation that is very open and attack-minded.
So, what Moyes did first and foremost at Everton was to make sure his side was defensively solid through the middle.
However, the style that he has played has changed down the years and I think he has got more and more attack-minded season by season, as he built his team.
But I'm not convinced we have seen the final version of the way Moyes wants to play. I think he is a more attack-minded manager than we have seen so far but his real strength is that he is totally and utterly adaptable depending on his players and the opposition.
Ferguson's tactical knowledge was part of the reason for his success. Moyes won't be at that level yet, and neither should he be, but he has got two things in his favour.
The first is that he has learned a massive amount before he has got to Old Trafford. The second is that, in Ferguson, there is a guy sitting upstairs who he can go and ask if he needs to. And he will ask him.
BIG TRANSFERS: Everton hit-rate, success or failure?
There were some great buys at Everton. Leighton Baines [who cost £6m from Wigan in July 2007] stands out as an amazing buy. Marouane Fellaini [£15m from Standard Liege in 2008] has been unstoppable. Tim Cahill [£1.5m from Millwall in 2004] stands out as one of the biggest bargains of recent years.
The list of Moyes' signings that didn't really come off includes a lot of strikers - James Beattie [£6m from Southampton in 2005], Andy Johnson [£8.5m from Crystal Palace in 2006] and Yakubu [£11.25m from Middlesbrough in 2007].
I have talked to David about this a few times. Nikica Jelavic [who cost £5m from Rangers in 2012] is another player you could question at the moment and it is no coincidence that it is with buying centre-forwards where the difficulty lies.
The fees Moyes has spent seem like a lot of money but, and this might seem strange, those are not big sums for centre-forwards. Strikers are more expensive than any other player and I would suggest you put them in a separate category because you could almost divide their fee by half to find their true value.
So, it is not because Moyes cannot spot a centre-forward, it is just that he knows he has got no chance of getting the one he wants to go for because they are too expensive.
He knows he is taking a chance with centre-forwards and his way round it was quite clever, because he knew Jelavic was quite cheap anyway, while someone like Fellaini was adaptable and could play in more than one position.
MAN-MANAGEMENT: Bigger club, bigger egos?
I usually ask people who ask whether Moyes can cope with big-name players if they have ever stared into those cold steel grey eyes of his.
If you have, I think you would realise he will not have any issue in dealing with players, no matter how big their name, or fee.
I think Moyes learned quite a lot from his dealings with Wayne Rooney first time around at Everton but let's not forget he has had quite a lot of other issues to sort out on and off the pitch in his time there, in terms of personal and performance-related issues.
So I don't think there is anyone in that Old Trafford dressing room that presents a problem, and he won't have any fears about bringing star players in.
HANDLING THE MEDIA: Will he change?
I hope not because he has been like a breath of fresh air with the way he has handled certain incidents.
When Phil Neville dived during the Merseyside derby earlier this season, he tore into him and said publicly 'we cannot have that kind of behaviour, we do not accept it at this club'.
I can imagine he will continue to be strong in his treatment of his players, and he will use the media to do it.
In terms of his day-to-day dealings with the media, it will be the same. He is a really nice guy but, like Sir Alex, don't try to stitch him up. These people are like elephants, they do not forget if you do them.
I am not saying it will be business as usual with Sir Alex leaving and David arriving, but some things won't change.
PRESSURE: Can he cope when the heat is on?
People like Moyes don't see their jobs as high-pressure, they kind of enjoy the intensity.
But I would agree that, when he moves to Old Trafford, Moyes will not have experienced anything like it before. It is at a different level.
I recall Gordon Strachan saying recently that you cannot speak about being manager of Celtic or Rangers until you have been there and done the job and the same holds true for United.
Sir Alex Ferguson dealt with it incredibly well but the pressure, scrutiny and expectation must be brain-busting. It was big when he took charge in 1986 but it is bigger now than it has ever been.
It will be interesting to see how Moyes copes. There will be a lot of low times for him but he has a lot of positives on his side - a very good balanced squad that knows how to win, the bloke upstairs ready to give him information when he asks, and a few quid to spend as well.
CONQUERING EUROPE: The great unknown for Moyes?
I spoke earlier about Moyes leaning on people when he needs to and the Champions League is definitely one of those areas where it is a learning curve for him and he might go to Sir Alex to gather information.
Moyes is a big student of the game and has a good knowledge of European football. It is probably an open secret now that a couple of years ago he was considering a move to Germany or Spain and came close to taking a job there.
He knows how adaptable he has to be. I remember talking to him a few years after his Everton side had been knocked out of the Champions League in the qualifying round by Villarreal in 2005 and he said that really hurt him for a long time afterwards, for a number of reasons.
It was a chance to take Everton into the Champions League and test himself against the best but also the finances that would have brought into the club would have given him the chance to take them to the next level.
He said not doing so had haunted him for a number of years, but now he finally has the chance to go and put that right.