Dundee: John Brown to remain as manager after talks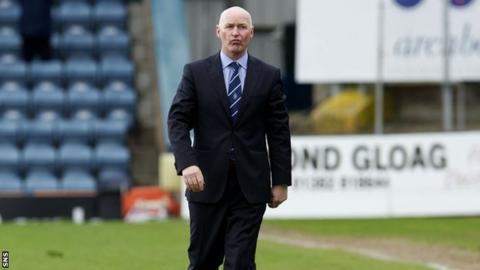 John Brown will continue as manager of Dundee, despite offering his resignation.
if the Scottish FA took action over his comments about the referee in Sunday's draw with Aberdeen.
And the 51-year-old was offered a one-match touchline ban, which
However, after a meeting with Dens Park chief executive Scot Gardiner, Brown says he is at Dundee "long term".
"I've done a two-year deal here, so I'll be seeing that out," Brown told BBC Scotland.
"Whatever anybody wants to pick away at things, there's quite a few people would be quite happy if I did, because of the stick I was getting when I first came in.
"I think they would feel comfortable about it, but I'm not going anywhere, I'm seeing this through."
The controversial penalty awarded to the Dons was converted and proved to be the decisive goal in the 1-1 draw which confirmed Dundee's relegation from the Scottish Premier League.
Peter Pawlett was the Aberdeen player involved in the spot-kick incident and
"We're appealing the decision [to offer a touchline suspension]. I'm disappointed that they've charged me.
"I made comments earlier in the week, probably the day after the game, still heat of the moment."
"I was upset at the time because I know the impact it's going to have at Dundee Football Club, and the jobs that are going to be lost with playing side and staff.
"So it was a bitter taste in the mouth the fact that the charge has come in. But I'll be here, I've got a two-year contract and I'll be honouring that."
Gardiner added: "His first instinct was to stick to his word. He said how can I work in a game where you can't be honest and speak your mind?
"So his first instinct was to stick to his word which was to walk away from the game completely, but I made it clear that I wouldn't accept that and that if he was intending to resign, which was what he was intimating, that I was not going to accept."