Fifa take no action against FA over abusive songs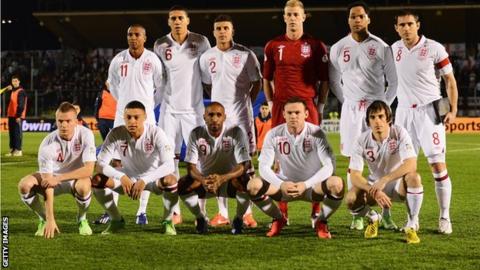 Fifa will not take disciplinary action against the Football Association for alleged racist chants by England fans.
It was claimed the chants took place during England's win against San Marino and were directed at Rio Ferdinand, who pulled out of the game in Serraville, and younger brother Anton.
Fifa said: "It has been decided not to open disciplinary proceedings due to the lack of concluding evidence."
However, it has urged the FA to take "preventative measures" in future.
Ferdinand was called up to the England squad for the first time since 2011 for the World Cup qualifier in March.
However, the Manchester United defender subsequently withdrew, citing a "pre-planned training programme" he needed to adhere to for fitness reasons.
The 34-year-old then travelled to Qatar to work as a television pundit for the game, which England won 8-0.
The fact that Anton was also the target of the alleged chants raised concerns given that the QPR centre-half, currently on loan at Bursaspor, was the victim of racist abuse by former England captain John Terry during a Premier League game in October 2011.
Football Against Racism in Europe, a group of organisations from several European countries that has worked with Fifa and Uefa to tackle discrimination in football, was not represented at the game in Serraville but decided to make a complaint after receiving information from people who had attended.
The Football Supporters' Federation dismissed the claims of racism as "hearsay", while the FA's own enquiries found no evidence of racist chanting.
The Fifa statement added: "The FA's attention was however drawn on the pertinent provisions of the Fifa regulations and they were requested to display prudence and adopt appropriate preventive measures in order to avoid that incidents of such nature do occur in the future."