Willie Collum and additional assistants appointed for final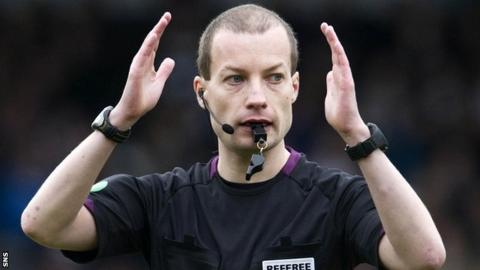 Willie Collum will referee this season's Scottish Cup final, a match that will feature additional officials.
Goal-line assistant referees, commonly used in Uefa competitions, will be used in a competitive Scottish match for the first time at Hampden on 26 May.
Bobby Madden and John Beaton will assume the roles with Alan Mulvanny acting as fourth official.
Willie Conquer and Martin Cryans will be Collum's assistant referees running the line for Hibernian v Celtic.
The team have experience of the system dating back to 2009 and the six men were on duty in last month's Europa League match between Fenerbahce and Lazio.
"The use of additional assistant referees has been successfully operated in a number of high-profile European competitions in recent years and is also in use in several domestic leagues across Europe," said the Scottish Football Association's head of referee operations John Fleming
"I believe this is a good opportunity to introduce the system to Scottish football, starting at this season's Scottish Cup final and, from next season onwards, also making use of the officials at the semi-final stage.
"William and his team have a lot of experience of the system, having officiated at numerous high-profile matches in Europe, and I am confident the team will perform to the highest level at this season's final and contribute positively to the match.
"I wish the team every success in what will be an exciting and entertaining match."