Northampton Town: Memories of the 1997 play-off final
By Jon Wilkinson
BBC Northampton
Last updated on .From the section Football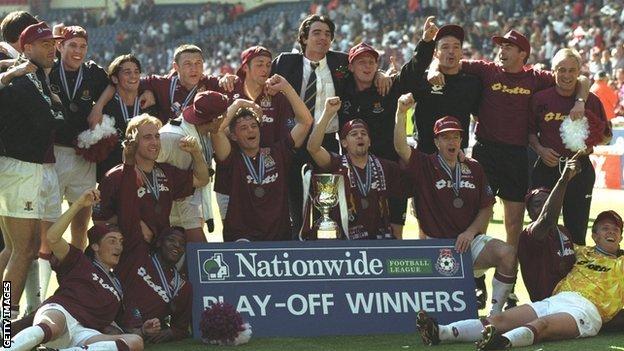 Northampton Town meet Bradford City in the League Two play-off final at Wembley a week on Saturday - their first time in a play-off final since 1998.
That season, one division higher, the Cobblers were seeking back-to-back promotions but lost 1-0 to Grimsby.
But their success the year before remains a high point in the club's history - in some ways overshadowing automatic promotion in 2006.
John Frain scored with a late free-kick to beat Swansea in the Division Three final at Wembley 16 years ago.
Manager Ian Atkins, centre-half Ian Sampson and striker Neil Grayson have fond memories of the day.
"We'd been in the doldrums for years," said Sampson.
"It was like going to an FA Cup final. We had press days, getting fitted for suits and making a song.
"It was called Sixfields Boys by a local group called Warehouse. We didn't really sing the song but it was commentary played in the background to the song.
"But there was always a serious note to everything. The manager didn't let us lose focus - he was single-minded and it rubbed off on the players."
Atkins, who managed Colchester, Cambridge United and Doncaster before arriving at Northampton in 1995, believes the achievement in 1997 shines all the brighter because of the off-field issues in their centenary year.
"To get to Wembley twice, while in receivership, will probably never be achieved again," he said. "The receivers Barry Ward and Barry Stonhill were fantastic but if we wanted even a bottle of water, we had to ask."
Just as in 2012-13, Northampton won the first leg of their semi-final 1-0. At Ninian Park, in front of 11,369 fans, a brilliant individual goal by Welsh midfielder Sean Parrish gave the Cobblers a slender lead over Cardiff.
"He took it from just inside his own half, took it round a couple of people and chipped the keeper," recalls Sampson.
"I'm sure he shinned it," says Atkins, only half-joking. "But the intention was a shot on target and it was rewarded - we had 10 men and we were up against it."
The Cobblers ran out 3-2 winners back at Sixfields in a match that Cardiff's Jason Perry has conceded they lost "in the tunnel".
"Northampton were very loud and physical and some of our younger players didn't react to it as well as they might have," he told Wales Online.
Grayson concedes that they were not averse to using their physical advantages.
"We had John Gayle staring everybody down and we were quite an imposing team," he said. "We were very good defensively and we won quite a few games 1-0."
After a long wait, similar to the one the players will experience this season, the Division Three play-off final at Wembley arrived.
"We stayed in the Wembley Hilton so we didn't have far to go on the Saturday," says Sampson. "Some of the guys went to the dog track the night before, and a few of the lads stayed in the bar.
"Alan Brazil was doing the commentary so we sat and talked football with him."
This season, Bradford have beaten Northampton at home and away in the league. The same was true of Swansea in 1996-97.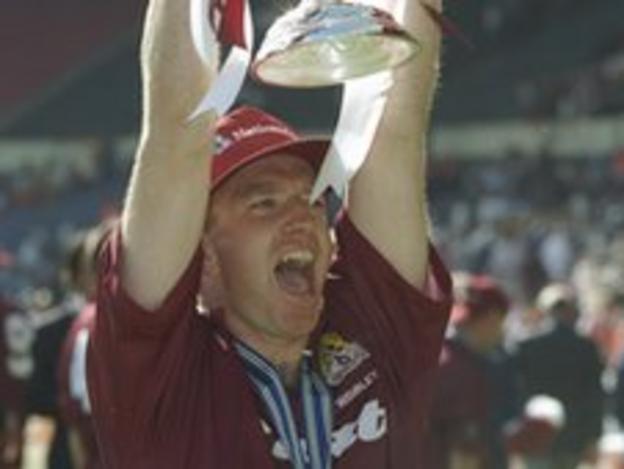 In front of 46,804 fans, they were locked in a stalemate deep into injury-time.
But in the 93rd minute, left-back Frain fired a free-kick into the wall. The referee said some Swansea players had encroached and ordered a retake. Frain stepped up and swung the ball past both wall and goalkeeper Roger Freestone to send the Cobblers fans into ecstasy.
"I was thinking I was going to play for another 30 minutes at Wembley," said Grayson. "When Frain popped up with the goal, I thought, 'I guess I'll take that then'."
Sampson was not so keen for extra-time.
"All I can remember is my feet burning, the pitch was so hard," said Sampson. "I was so glad when he scored - it was a relief more than anything.
"The celebrations were wild on the pitch. But everyone was shattered."
"It was elation," agrees Atkins. "No-one gave us a chance but we had a very strong spirit."
Sampson urges the current squad to seize their opportunity and warns that losing at Wembley is a bitter experience, having been with the Cobblers in 1998 when they lost in the Second Division (now League One) play-off final.
"It's always a dream as a young player," he said. "You never thought you'd get there, until the play-offs were introduced. It is massive."
Like the team of 1996-97, Northampton have come from relative obscurity to challenge for promotion. After 16th and 20th place finishes in the last two seasons, all three former Cobblers are impressed by what manager Aidy Boothroyd and the players have achieved.
"What Aidy has done there is quite remarkable," said Sampson.
"When Ian Atkins took over, it took two seasons to stabilise and only then progress. Aidy has done that in 12 months.
"The players deserve a lot of credit as well. Me and Ray Warburton were there to head it and kick it at the back. I thought Clarke Carlisle and Nathan Cameron were outstanding against Cheltenham, and the goalkeeper (Lee Nicholls) is excellent."
Grayson is a fan of Adebayo Akinfenwa but also play-off semi-final goalscorer Luke Guttridge.
"He worked non-stop," he said. "He looked like the kind of player you'd hate to play against.
"He was a bit like Roy Hunter. I think I was a bit of a pain [to play against] as well."
And Atkins says the players must play their natural game on 18 May if they are to upset the odds again, and win promotion.
"At Wembley, the pitch is no different," said Atkins. "It's the build-up which drains you.
"So I'd say to those players, 'be focused and enjoy yourself'. Stick together and stick to what you're good at.
"Show me a good loser and I'll show you a loser. You want to be winners at Wembley. It only remembers winners."