Are the play-offs really a lottery?
By Ben Carter
Radio 4's More or Less
Last updated on .From the section Football143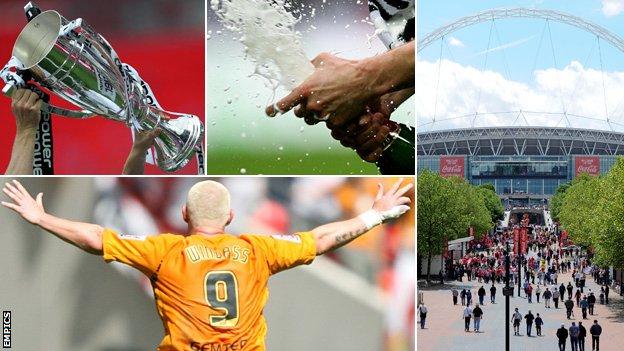 The formula for winning the Championship play-offs is well known, isn't it?
Sneak in with a late surge before going on to shock the sides that finished above you in the table. Form is everything, final league position means nothing.
But is this true? We have looked back at the last 20 seasons of the Championship play-offs to analyse these theories. Is there method to them, or are they a myth?
Table one analyses final league position and success in the play-offs:
League positions and promotions

3rd

4th

5th

6th

1992-93

Portsmouth

Tranmere

Swindon
Leicester
1993-94

Millwall

Leicester

Tranmere

Derb

y

1994-95 *
Reading
Bolton

Wolves

Tranmere

1995-96
C Palace

Stoke

Leicester

Charlton

1996-97

Wolves

Ipswich

Sheff Utd
C Palace
1997-98
Sunderland
Charlton

Ipswich

Sheff Utd

1998-99

Ipswich

Birmingham

Watford
Bolton
1999-2000
Ipswich
Barnsley

Birmingham

Bolton

2000-01
Bolton
Preston

Birmingham

West Brom

2001-02

Wolves

Millwall

Birmingham
Norwich
2002-03
Sheff Utd

Reading

Wolves

Nott'm Forest

2003-04

Sunderland

West Ham

Ipswich

C Palace
2004-05

Ipswich

Derby

Preston
West Ham
2005-06
Watford

Preston

Leeds

C Palace

2006-07
Derby
West Brom

Wolves

Southampton

2007-08
Hull
Bristol City

C Palace

Watford

2008-09
Sheff Utd

Reading

Burnley

Preston

2009-10

Nott'm Forest

Cardiff

Leicester

Blackpool
2010-11
Swansea

Cardiff

Reading

Nott'm Forest

2011-12
West Ham

Birmingham

Blackpool

Cardiff

2012-13

Watford

Brighton

C Palace

Leicester

Reach final?
60%
45%
55%
40%
Promotion?
35%
15%
30%
20%
Runner up?
25%
30%
25%
20%

Key: BOLD = promoted; ITALICS = runner-up

* Reading actually finished 2nd, Bolton 3rd, Wolves 4th and Tranmere 5th
It might provide some comfort for Watford fans after their side missed out to Hull in the battle for automatic promotion last weekend. Five of the last seven teams to finish in third position in the table have been promoted via the play-offs - a run that was started by Watford themselves in 2006.
Brighton supporters might not be so positive though, as history shows that just three of the teams who have finished fourth have been promoted in the last 20 years - and none in the last 15. The last team to do it was Charlton in 1998 after perhaps the most dramatic play-off final ever.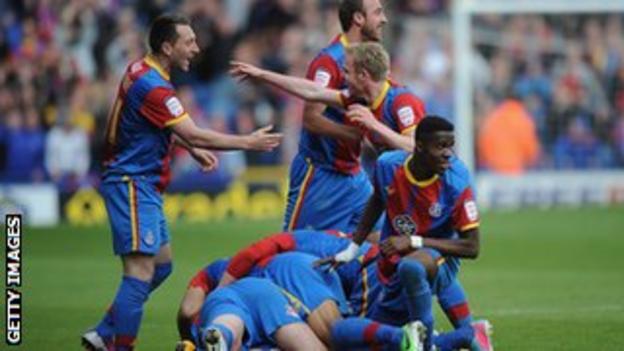 And what about Brighton's play-off semi-final opponents, Crystal Palace? The table shows that the team finishing fifth has been promoted twice as many times as the team in fourth.
Leicester sneaked into the final play-offs with virtually the last kick of their last game against Nottingham Forest. The news for them is mixed. Only four teams finishing sixth in the last 20 years have been promoted via the play-offs.
But in the last 10 years, every time a sixth-placed team has reached the final they have won, most recently in 2010 when Blackpool beat Cardiff in a thrilling game.
So are we to conclude that form going into the play-offs is more important than final league position?
Palace fans will surely be concerned about their side's recent run, as their last-gasp winner against Peterborough secured their first win in seven games. Can a team on such a poor run of form get promoted?
Table two looks at the average points per game accrued by each of the play-off teams from 1 April to the end of the season:
League positions and promotions

1992-93

Portsmouth: 2.38

Tranmere: 2.33

Swindon: 1.38
Leicester: 1.33
1993-94

Tranmere: 1.78

Derby: 1.67
Leicester: 1.44

Millwall: 1.40

1994-95
Reading: 2.29

Tranmere: 1.38

Bolton: 1.33

Wolves: 1.30

1995-96
Leicester: 2.38

Stoke: 2.11

C Palace: 1.43

Charlton: 1.00

1996-97

Ipswich: 2.67

Wolves: 1.67

Sheff Utd: 1.60
C Palace: 1.50
1997-98
Charlton: 2.71

Ipswich: 2.29

Sunderland: 2.00

Sheff Utd: 1.00

1998-99
Watford: 2.75

Ipswich: 1.62

Birmingham: 1.62

Bolton: 1.33
1999-2000
Ipswich: 2.29

Bolton: 2.29

Barnsley: 1.57

Birmingham: 1.57

2000-01
Bolton: 1.88
Preston: 1.75

Birmingham: 1.12

West Brom: 1.00

2001-02

Millwall: 2.50

Norwich: 2.50
Birmingham: 1.80

Wolves: 1.00

2002-03
Wolves: 1.86

Reading: 1.71

Sheff Utd: 1.38

Nott'm Forest: 1.12

2003-04
Crystal Palace: 2.38
West Ham: 1.57

Ipswich: 1.57

Sunderland: 1.56

2004-05
West Ham: 2.12

Derby: 1.88

Ipswich: 1.71

Preston: 1.57
2005-06

Preston: 2.67

Watford: 1.80
Leeds: 1.00

C Palace: 1.00

2006-07

Southampton: 2.00

Wolves: 1.67

West Brom: 1.50
Derby 1.33
2007-08

C Palace: 2.40

Hull: 1.40

Watford: 0.83

Bristol City: 0.80
2008-09

Preston: 2.17

Sheff Utd: 2.00
Burnley: 1.83

Reading: 1.29

2009-10

Leicester: 2.50

Blackpool: 2.17
Cardiff: 1.83

Nott'm Forest: 1.50

2010-11

Cardiff: 2.22

Reading: 2.12

Nott'm Forest: 1.88

Swansea: 1.75
2011-12
West Ham: 2.33

Cardiff: 2.33

Blackpool: 2.00

Birmingham: 1.86

2012-13

Brighton: 2.14

Watford: 1.43

Leicester: 1.29

C Palace: 1.0

TOTALS:

Nine promotions, one runner-up

Three promotions, six runners-up

Five promotions, nine runners-up

Three promotions, four runners-up

Promotion?
45%
15%
25%
15%
Reach final?
50%
45%
70%
35%

Key: BOLD = promoted; ITALICS = runner-up.
Brighton clearly have the best form of the four teams in this season's play-offs, having averaged 2.14 points per game from their last seven matches. History shows that teams with the best form have reached the final 50% of the time since 1992-93, and nine of those 10 teams have actually won the play-offs.
But there is one caveat. In the last seven years, only one team with the best form - West Ham last year - have reached the final.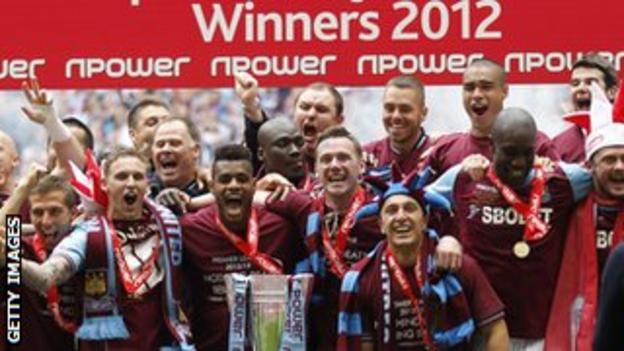 Surprisingly, it is the third-ranked team in terms of form who have reached the final most often - 14 times in the last 20 years. Saying that, they have only won five of those finals. Leicester rank third in terms of form going into the Championship play-offs this season.
However, there is another way of looking at form that might be important this year. No side with form as poor as Leicester's (1.29 points per game since 1 April) and Crystal Palace's (1.00 points per game) has been promoted in the last 20 years. The winning sides with the worst form going into the play-offs were Bolton in 1995 and Derby in 2007, who both averaged 1.33 points per game in April and May.
As always, you should be careful about using past performance to predict the future. But if you do want to make a prediction based on statistics and where a side finished in the table, Watford are a good bet.
If you want to look at form though, then Brighton are the best bet. And if you are Crystal Palace fan, you might want to pray this is the time that form really does go out of the window.