Wojciech Szczesny: Arsenal goalkeeper taunts Spurs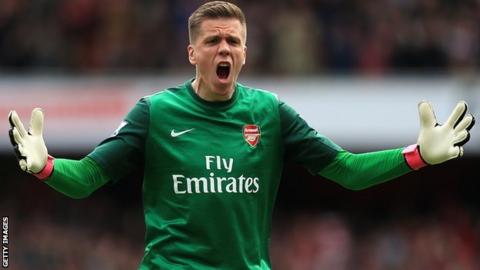 Arsenal keeper Wojciech Szczesny believes rivals Tottenham "do not have enough quality" in the race to qualify for the Champions League.
Spurs and Chelsea are battling with the Gunners to finish in the top four of the Premier League and reach next season's top European competition.
"If we win our next two games it will be enough as either Chelsea or Spurs will drop points as they play each other," said Szczesny.
"Tottenham do not have enough quality."
The 23-year-old Pole added: "I was convinced that Tottenham had drawn 0-0 against Southampton. I only found out after the game that they had won 1-0, but I don't think it matters really."
Arsenal, who have played in the Champions League for each of the last 15 seasons, are currently fourth in the Premier League.
They are one point behind third-placed Chelsea and two points ahead of Tottenham in fifth, but the Gunners have played a game more than both of their London rivals.
Arsenal's 1-0 victory at QPR on Saturday extended the Gunners' unbeaten run to nine games, although they have only scored three goals in their last four matches.
"I would settle for another two 1-0 wins for the rest of the season and a place in the top three," said Szczesny.
"Even if we have games like the QPR one, it might have been boring at times, but we couldn't care less at this time."