Bosman ruling lawyer Jean-Louis Dupont in Uefa complaint
Last updated on .From the section Football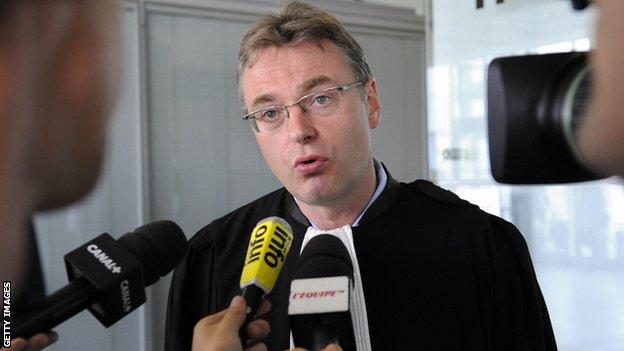 A lawyer who helped win the landmark Bosman case has lodged a complaint with the European Commission over Uefa's Financial Fair Play (FFP) regulations.
Lawyer Jean-Louis Dupont claims that FFP breaches European competition law.
"A club owner is prohibited from overspending even if such overspending aims at growing the club," said Dupont.
In December 1995, Belgian midfielder Jean-Marc Bosman, 31, successfully challenged football's transfer rules at the European Court, on the basis of restraint of trade.
The Bosman ruling allowed players over 24 to move clubs without a transfer fee at the end of their contracts, and also ended national league limits on foreign players from other European Union countries.
Dupont, who was part of the legal team that won that ruling and also led the case that forced Uefa and world governing body Fifa to compensate clubs for players injured on international duty, is now representing Belgian players' agent Daniel Striani.
The Belgian lawyer says the FFP ruling will restrict the incomes of both players and agents, reduce transfer activity and ensure that Europe's larger clubs remain dominant.
He added that even if the ban on overspending was ruled legal, he would have further grounds to appeal because Uefa, football's European governing body, could achieve its aims by a less restrictive measure such as forcing clubs to makes guarantees on any spending beyond projected income.
The European Commission confirmed it had received a complaint but would make no further comment on the case.
Uefa suspended Turkish team Besiktas from European competition a year ago over unpaid bills and punished Spanish side Malaga for the same offence in December 2012.