Wigan poised to produce another Great Escape from relegation

By Phil McNulty
Chief football writer
Last updated on .From the section Football377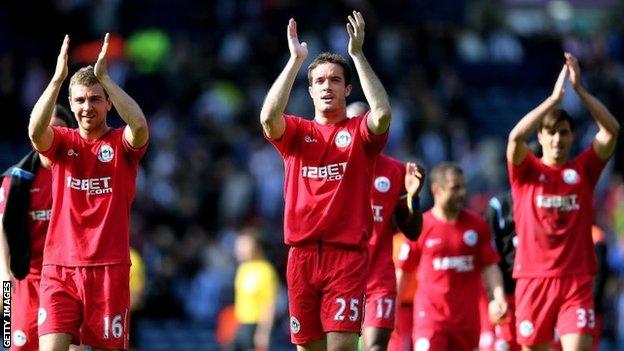 At The Hawthorns
As nerves jangled from the north-east to East Anglia, Wigan Athletic manager Roberto Martinez maintained an almost surreal air of calm amid the stresses of the struggle for Premier League survival.
Martinez's history at this stage of the season suggests it would be no surprise to see him arrive at his media briefing in a straitjacket, be hurled into a container of water and have himself free in seconds. It is an act he has seemingly spent years perfecting.
He bristled slightly at the suggestion Wigan are escape artists after a 3-2 win at West Bromwich Albion that revived hopes of maintaining a top-flight status that was under serious threat at various stages of a pulsating afternoon at The Hawthorns.
This is surely what they are. If Wigan were not they would break the habit of a Premier League lifetime that leaves their supporters knee deep in chewed fingernails every May.
They were at it again here with a performance that was a reflection of the composed approach of their manager. It was a victory that carried all the hallmarks of a team battle-hardened in this high-pressure environment.
So as Martinez smiled his way through his post-match news conference, Norwich City were in the process of cancelling their end-of-season dinner to focus minds on their growing relegation fears, while Newcastle United's point at West Ham United suddenly looked a little less satisfactory.
Indeed, if Wigan beat Swansea at home on Tuesday night they will be out of the bottom three and up to 16th, above both of them.
QPR and Reading have gone and the dash for the line marked "safety" is threatening to be chaotic. Wigan's form over this particular course and distance means they will be written off at your peril.
The likes of Sunderland, Newcastle, Norwich and even Southampton can see Wigan in their rear view mirror - and history tells us they should be concerned about their yearly, successful overtaking manoeuvre.
Martinez's reputation has been built on this sort of situation, although there is a case to suggest that if he is the great alchemist which his supporters believe he is, he would have Wigan safe long before the final three games of the season instead of embarking on this tortuous route every year.
If he is the great manager his chairman Dave Whelan tells the world he is, why does Martinez find himself in this situation every season?
He clearly has an ability to work on a restricted budget and apply his purist principles to get the best out of his players - so why does the full effect not seem to kick in until April? It would certainly save a lot of worry around Wigan if they could make their move a little earlier.
Mitigating factors, such as the absence of players such as Maynor Figueroa and Antolin Alcaraz, must be taken into account and Jean Beausejour was taken off on a stretcher with 17 minutes left at The Hawthorns.
On this day, however, one could only admire the way in which Wigan and Martinez went about their business. Behind twice to Shane Long and Gareth McAuley, Wigan demonstrated remarkable composure and character to equalise twice through Arouna Kone and James McArthur - seconds after his introduction as substitute - before Callum McManaman's winner 10 minutes from time.
At no stage did Wigan panic or shift one inch from the style Martinez demands. This was a team comfortable with what they had to do and in many respects it was a top-class performance deserving of the highest praise.
Even with a history-making FA Cup final against Manchester City at Wembley only a week away, Wigan's eyes were firmly on that survival prize. Commitment was total.
Whether it is enough to stay up for an eighth successive season remains to be seen, but Wigan have given themselves a fighting chance and dragged others back into trouble.
Wigan's entire effort was summed up by Shaun Maloney, a player now reaching his full potential. The Scot, whose time at Aston Villa was troubled by homesickness, is now the player many thought he would be when he left Celtic for the first time in 2007 to try his luck in England.
Clever, creative and with an end product, Maloney was at the heart of everything Wigan did - "an engine" in the words of Martinez. As the pressure mounted in those closing minutes it was Maloney who kept his head, danced into the West Brom penalty area and set up McManaman.
Spirits had soared in the hearts of Wigan's players at the final whistle. And so much rides on staying up for a club that has a heartwarming story to tell.
If Wigan went down, the chances of Martinez finally being tempted away would surely increase. Players of the calibre of Maloney, James McCarthy, McArthur and McManaman would be the subject of increased interest. These are some of the sub-plots behind an attempt to stay up that Martinez compares to winning the title.
Newcastle have a vulnerable look, with games away at QPR - who by the law of averages are surely scheduled to rise above the level of utterly dreadful one day - and home to Arsenal, who may well be embroiled in a dogfight to secure Champions League football when they visit Tyneside on the final day.
Norwich, struggling to win matches, are at home to West Brom and away at Manchester City while Sunderland are at home to Southampton then have a tough test at Spurs.
After Swansea and the FA Cup final, Wigan are away to Arsenal, where they won last season, and at home to Aston Villa on the last day.
Wigan and Martinez have been here before. And on the evidence of this win at The Hawthorns, this may just be a decisive factor.