Wolves chairman Steve Morgan says club have failed their city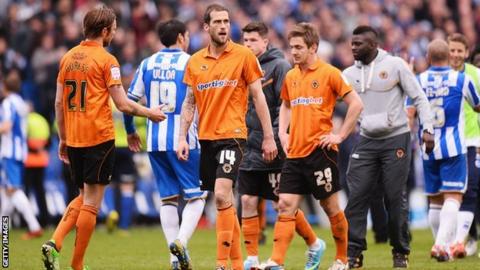 Wolves chairman Steve Morgan admitted that the club had "failed our supporters and the city" after their relegation to League One was confirmed.
A second straight relegation for the Black Country club was sealed
Morgan said in a statement: "Clearly a lot of mistakes have been made over the past two seasons and I understand fans' pain, anger and resentment towards me.
"It's not been good enough and we must improve both on and off the pitch."
Wolves were relegated from the Premier League last season and have had three managers since they sacked Mick McCarthy 15 months ago.
Next season, they will be in the third tier for the first time since the 1988-89 campaign and Morgan acknowledged that there will be big changes at Molineux over the summer.
He said: "Next season is going to be very difficult. However, we will face the task of League One football with utmost determination and humility; we will do our very best, compete in every League match and fight our way back.
"We must restore pride and passion into the team, rebuild our reputation and regain the trust and support of our fans.
"Today is a sad day at the end of what has been a horrendous season.
"Quite naturally a number of players will leave in the summer, but they will only go if it is right for the club. Perhaps we should have moved more players on in the past two seasons, but we honestly expected this group of players would be good enough to be successful in the Championship."
Manager Dean Saunders - relegated from the Championship last season as well with his former club Doncaster - says he has already started planning for next season.
When asked if he had the backing of the club, Saunders replied: "I'm not certain about that. I've got a contract having been here three-and-a-half months.
"We've got an opportunity to make drastic changes. The mentality in the club is not right. You have to be ruthless and start again.
"As soon as that final whistle went I am now starting to rebuild the football club because we have to move forward now.
"Sometimes it takes hitting rock bottom before you realise it has got to change, and I have got to change everything and rebuild the club.
"I knew what I was coming into when I walked into the club - I have done this before with clubs who have been struggling and had lots of problems.
"The fans have had lots of bad weekends over the last three or four years - lots of pain - and they deserve a whole lot better.
"I feel sorry for that and I feel obliged to do something about it.
"I know what to do, I'm up for the fight and I've got to lift them off the floor now - I have got to turn it around.
"In a strange way, what has happened might help us bounce back. Relegation to League One has happened to clubs like Leeds, Nottingham Forest, Norwich and Southampton."