QPR's Tony Fernandes: I have been exploited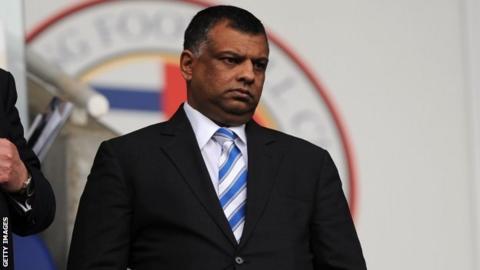 QPR chairman Tony Fernandes says that he has been "exploited" since he took over at Loftus Road in August 2011.
The 49-year-old, who has made his wealth in the airline and music industries, estimates he has put £50m of his personal fortune into the club but says he has learned a lesson.
"I don't think I will be exploited any more," said the Malaysian businessman.
"I think I allowed myself to be exploited but that's my choice."
QPR have won only four games this season and were relegated last weekend after their 0-0 draw with Reading. They will play in the Championship next season.
Since Fernandes arrived at the club, he has brought the likes of Shaun Wright-Phillips, Djibril Cisse, Anton Ferdinand, Bobby Zamora, Christopher Samba and Loic Remy to west London: the latter two arriving in January for a combined total of £20.5m.
Earlier this week, he warned that it could take "two or three seasons" for the club to return to the Premier League and he expects to learn lessons from the club's spell in the top flight this time around.
"Agents are trying to get the best contracts and there are no two ways about it, I had to pay premiums," he added.
"I've seen all of the parts that make football quite - maybe immoral is a strong word - but they would sell their grandmother to do something. It's all part of the football ecosystem."
Fernandes also revealed that letting midfielder Joey Barton join French club Marseille on a season-long loan was one of the club's major mistakes.
"We missed Joey," he said. "We needed a workhorse midfielder and we tried to get Scott Parker.
"We missed a real leader. We tried to get Michael Dawson.
"This has been a tragic season in many ways. It is a Shakespearean play in the making."