Scottish Football League: Ten clubs consider breakaway

By Jim Spence
BBC Scotland
Last updated on .From the section Football504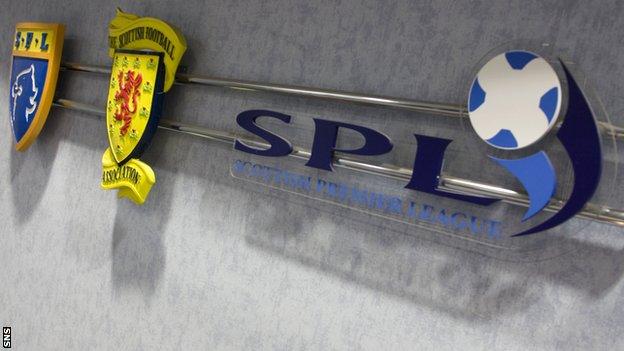 Ten clubs are ready to quit the Scottish Football League in time for next season, BBC Scotland has learned.
A letter signed by the 10 clubs has been sent to the Scottish Premier League asking them to consider forming a new second tier.
The move comes against the backdrop of protracted talks on root-and-branch reform of the Scottish game.
The clubs are understood to have taken legal advice about quitting the SFL without the required two years' notice.
The letter will stress that their preference for league restructuring is through dialogue with all 42 senior clubs but that, if that cannot be achieved, the SPL should set up a second division.
Rangers are not among the clubs involved in the possible rupture.
For any breakaway to succeed, SPL clubs would need to approve the plan with an 11-1 majority required.
Chairman Les Gray confirmed that Hamilton Accies were one of the clubs involved and expressed disappointment that news of the letter had been made public.
"We've given an alternative," he told BBC Scotland. "It's the last chance to do something for next season.
"We need to do something to create extra wealth for the second tier."
Asked why the 10 clubs did not discuss their intentions with SFL chief executive David Longmuir, Gray added: "We're very disappointed with our board.
"I'm worried that if we didn't do something ourselves it couldn't be fixed."
Plans for a new three-tier set-up with two leagues of 12 and a division of 18 above a pyramid structure and a new governing body did not get past a vote from the top flight clubs, with St Mirren and Ross County opposed to the model.
SPL clubs gathered again on Monday to explore the possibility of adopting some elements of the blueprint but, again, no consensus was reached.
The top flight teams are to meet next Tuesday to discuss the possible introduction of play-offs for next season but they will now have this letter to mull over.
County and St Mirren have previously voiced opposition to any SPL2, saying that a compromise had to be reached involving all of Scotland's professional clubs.
A statement from the SPL read: "We can confirm that we have received a letter from the overwhelming majority of those clubs which would be in the SFL Division 1 next season expressing a desire to be admitted to the Scottish Premier League for season 2013/14.
"This letter will be put in front of all SPL clubs at their All Club Meeting this Tuesday when we look forward to discussing how best to take forward the game in this country."