Rafael Benitez: Chelsea boss wins Premier League's April award
Last updated on .From the section Football442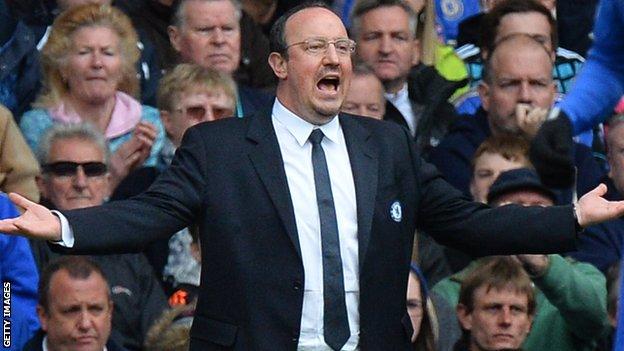 Chelsea interim manager Rafael Benitez has been named Premier League manager of the month for April.
The Spaniard, 53, is the first Chelsea boss to collect the monthly award since Carlo Ancelotti in April 2011.
Benitez, who last won the accolade in charge of Liverpool in March 2009, will leave this summer, with Chelsea fans chanting for Jose Mourinho's return.
Unbeaten in the Premier League in April with three wins from four, Benitez has guided the Blues to third place.
Ahead of Sunday's meeting with Europa League finalists Chelsea at Old Trafford, Manchester United manager Alex Ferguson has conceded Benitez has done a good job "in the last few weeks".
The pair have had a fraught relationship since Benitez's time at Liverpool, with the Spaniard accusing Ferguson of ignoring a handshake before March's FA Cup quarter-final.
"He is very concerned about his CV. He refers to it quite a lot," said Ferguson, whose United side have already been crowned champions.
"But you can't dispute the fact he has done a good job in the last few weeks.
"The key to it is that the fans have settled down a little bit. They have left him alone. He has got on with managing his job.
"It can't be easy, listening to pressure from the fans all the time.
"They have eased up. It has allowed him to relax and they have produced some good results."
Benitez remains unwanted among large sections of the Stamford Bridge crowd and now has to deal with the growing whispers surrounding Mourinho's Real Madrid future.
He has been unpopular with some fans since taking over from Champions League-winning manager Roberto Di Matteo in November.
A section of the club's supporters has been unable to forgive Benitez for his association with Liverpool, or forget the rivalry he formed with then-Blues boss Mourinho.
As Liverpool manager, Benitez outwitted Mourinho in the 2005 and 2007 Champions League semi-finals as well as the 2006 FA Cup semi-final. He was also critical towards his current club while in charge at Anfield.
Tim Rolls, from the Chelsea Supporters Trust, does not believe Benitez will win supporters around.
He said: "There is an unofficial truce, he is getting very little flak. It has changed and is now about next season and Jose Mourinho.
"If Mourinho does not come now there will be a big sense of disappointment. After previous comments from Rafa Benitez, the best he could ever hope for is being ignored.
"The reality is, although we are in the Europa League final, the big issue is Champions League qualification and that is still far from certain. I still don't think it has been an exceptional season.
"You imagine the least that was expected when he was appointed was Champions League qualification. All he would have done is achieved expectation, he will not have exceeded it."