Truro City: Lee Hodges parts company with Cornish side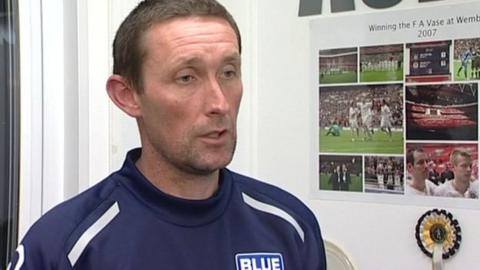 Manager Lee Hodges has left Truro City after the club admitted it could no longer afford to keep him.
The 39-year-old was not offered a new contract, with the club facing facing an uncertain future because of serious financial problems.
"I didn't want Lee to hang around and find himself out of work, it's not fair on Lee or the club.
"Lee's wages are probably on the line of a league manager," chairman Peter Masters told BBC Radio Cornwall.
"It's not his fault, when we came into the club, the wage bill was £4,500-£5000 per week.
"A substantial amount of that wage was going towards Lee and his support staff, and the reality is we've got to work within a sustainable budget."
But the former Plymouth Argyle and Torquay player was surprised to be told he would not be getting a new deal.
"Speaking to Pete last month, he said there was no problem and he wanted me as manager next season.
"Today, out of the blue, I've been told that I'm not going to be offered a contract.
"I think it's a sad way to end because, for the three years I worked there, I felt I deserved to have an offer on the table.
"It would have been quite easy for me to walk away, but I'm not that kind of person, I want to give it my best shot and give it absolutely everything," he said.
Hodges was appointed in the summer of 2010 after taking over as interim boss when Steve Thompson left in March of that year.
The following season he led the club to promotion to the Conference South, the highest level ever achieved by a Cornish football club.
But that success was bankrolled by former owner Kevin Heaney and the club entered administration when Heaney went bankrupt in August 2012, leaving the club to fight a debt claim of £700,000.
The White Tigers were having before Masters and Philip Perryman took over.
The club is now seeking a Company Voluntary Arrangement (CVA) for £70,000 worth of debt related to the previous owner.
Should City fail to reach an agreement with its creditors, they will not be allowed to play in the Southern Premier League and will instead join the Western League, a further two divisions down the non-league pyramid.
"Asking people to write their debt off is very difficult, there's some very bitter people out there," Masters said.
"What I want to do is clear the decks right down so there is no debt.
"What I don't want to do is agree a load of debt in a CVA and find out 18 months later that we can't afford the debt and the club goes back into administration, added Masters who says he and Perryman have spent around £250,000 on the club since taking it over.
Under the ownership of Heaney, Truro to go from local league football to two divisions off the Football League and also won the 2007 FA Vase.