Rafael Benitez: Chelsea's interim manager has delivered

By Phil McNulty
Chief football writer
Last updated on .From the section Football242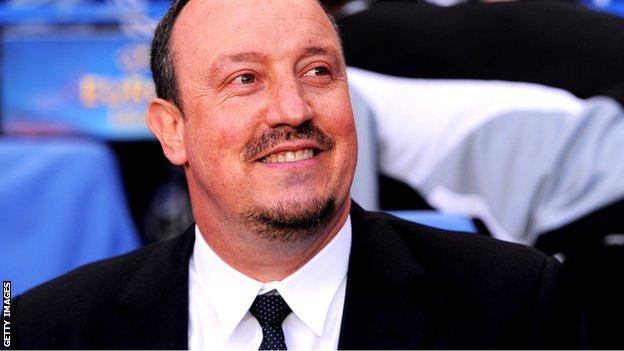 At Stamford Bridge
Chelsea, however, are a club that do not do normal circumstances.
Instead, the interim manager who has offered up the prospect of a major consolation prize to cover up the cracks of a deeply flawed defence of the Champions League, heard nothing of the sort.
Benitez has rarely been far from the shadow of Jose Mourinho, whether it was in bitter opposition as adversaries at Liverpool and Chelsea, following "The Special One" after his all-conquering time at Inter Milan and now during his temporary tenure at Stamford Bridge.
And so it proved on a night when Benitez was surely due some credit for his work in salvaging another turbulent, chaotic season in west London with a trip to Amsterdam to face Benfica in Chelsea's latest showpiece final.
Not a bit of it. As the whispers of Mourinho's potential return to Stamford Bridge grow to a scream, there was only one manager Chelsea's fans were interested in lending their support to.
A truce of sorts has been agreed by the supporters, who no longer voice their displeasure at Benitez - but actual recognition is too much for the Spaniard to hope for. Silent, grudging acceptance is the full extent of the affection in which he is held.
This game, which ended in a 3-1 Chelsea victory to confirm a 5-2 aggregate semi-final win, was only seven minutes old when the first chants for Mourinho swept around Stamford Bridge. They were repeated throughout with the occasional variation of "Jose's Coming Home".
Close confidantes of Mourinho seem to think he is coming home, with a potential return date of 1 July being touted, while his former Chelsea backroom man and now Tottenham manager Andre Villas-Boas seemed in little doubt they would be rivals in the capital next season.
Whether the final bridges between Mourinho and Chelsea owner Roman Abramovich, burned in the dying days of his first term in 2007, have now been rebuilt remains to be seen, but Benitez could not have been blamed for feeling fans were rushing him towards the door in one of the high points of his time at Stamford Bridge.
As Chelsea recovered from the anxiety of conceding a goal to Basel's Mohamed Salah right on half-time to hit back with second-half goals from Fernando Torres - his 20th of the season - Victor Moses and yet another long-range spectacular from David Luiz, it was Mourinho's name that echoed around Stamford Bridge.
Roberto Di Matteo was also celebrated in song while Benitez patrolled his technical area, firing off those tic-tac gestures that often seem designed to make him feel more comfortable than his players, so often do they go unheeded.
Even as someone who has in the past found Benitez a mystifying figure with an over-zealous tendency to step into politics at his clubs rather than concentrate on football, it would be churlish in the extreme not to give him credit for his work at Chelsea.
He was unwanted from day one but has taken Chelsea to a major European final - he was powerless to stop the terminal decline of their Champions League campaign - and they look set fair for a place in the top four.
If Benitez was to leave Chelsea with the Europa League won and a spot in next season's Champions League, then he could consider that a job well done and a worthy addition to his CV. Abramovich will have prioritised a top four place with the gloss of a European trophy for the second successive season as an added bonus and Benitez is in a good place to deliver.
When Chelsea reach Amsterdam, Benitez will face some tickling selection decisions. Not a character given to sentiment at the best of times, he can make them without fear or favour knowing he will only have a few days left in his post.
One man who may have a worry is Chelsea captain John Terry. Benitez has managed the defender's appearances carefully and his circumstances mean he will not have to deal with any fall-out should he exclude this influential figure from the final.
Against Basel, Branislav Ivanovic and Gary Cahill took the central defensive places with Luiz employed further forward in what is his best position. Benitez is a fan of right-back Cesar Azpilicueta while Ashley Cole will return on the left.
If Terry wanted any guarantees he will not get them before May 15 - and may not get them at all.
Benitez will relish the occasion and the prospect of putting a trophy on the sideboard at Chelsea before walking away. He won this competition in its guise as the Uefa Cup with Valencia in 2004 and of course won the Champions League with Liverpool in 2005 against AC Milan before losing to the same opponents two years later.
If Benitez can beat Benfica then even Chelsea's fans may break the sound of silence and acknowledge the man they called "The Interim One" - even if they still sing for the return of "The Special One".