Conference play-off final: Newport's 25-year dream
By Aled Williams
BBC Wales Sport
Last updated on .From the section Football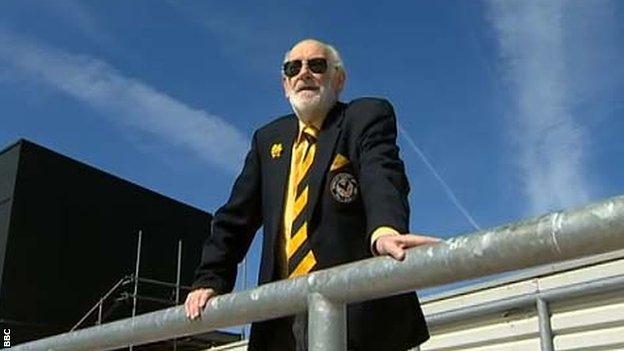 At Wembley on Sunday, Newport County could finally fulfil a dream David Hando has harboured for the last quarter of a century.
Hando was chairman of Newport AFC during their formative years, a club which overcame several obstacles and climbed up the English non-league pyramid.
When the club was formed in 1989 the ultimate aim was a place in the Football League. Twenty-four years later and Newport County are one win away from achieving that.
"If they get back in the Football League I would be delighted for everyone concerned at the club, but more than most David Hando," said Colin Addison, who had two spells as County manager during their Football League days.
"He kept Newport County going. He believed in it.
"It's a credit to him and all those people that stayed behind the club and backed the club."
County, in their original incarnation, were relegated from the Football League in 1988 and liquidation a year later led to the formation of Newport AFC.
Now Newport County's honorary president, Hando recalls how a new club rose from the ashes and began a journey which they hope will culminate in a return to the Football League.
"We were all firm, loyal supporters of the old Newport County even though it was up and down. But it finally went out of existence. We'd lost our club," Hando said.
"My mind goes back to a meeting on a hot June evening at the Lysaght Institute.
"Over 400 crammed in and expressed their determination not to leave Newport without a first-class football team.
"We took the decision to try and form a new team, and we did. We formed Newport AFC with the aim of returning the Football League to Newport.
"People said that was our dream but we weren't dreamers. It was our mission.
"The hope is, with all due respect to Wrexham, that our mission will be accomplished by 5pm on Sunday."
A return to the Football League seemed a distant, and impossible, dream when Newport AFC embarked on their first season in the Hellenic League.
As if starting a club from scratch wasn't hard enough, Newport were forced to play their inaugural season in the unlikely setting of the Cotswold market town Moreton-in-Marsh in Gloucestershire.
The Football Association of Wales refused to sanction the club playing in Wales while Newport Council objected to the newly-formed club playing at County's old home of Somerton Park.
Despite the obstacles placed in their way, Newport - under the management of former County player John Relish - finished their first season as Hellenic League and Cup winners.
It was that burning desire to return to the Football League, says Hando, that saw Newport decline the Football Association of Wales' invite to join a new League of Wales in 1992.
Newport refused to join the fledgling competition and were once again forced to play in exile, this time 50 miles away in Gloucester.
Playing in exile took its toll on Newport and with all avenues exhausted in their attempt to return to playing in Wales, they resorted to legal action.
The club, along with fellow exiles Caernarfon Town and Colwyn Bay, won an injunction during the summer of 1994 which allowed them to return to Wales.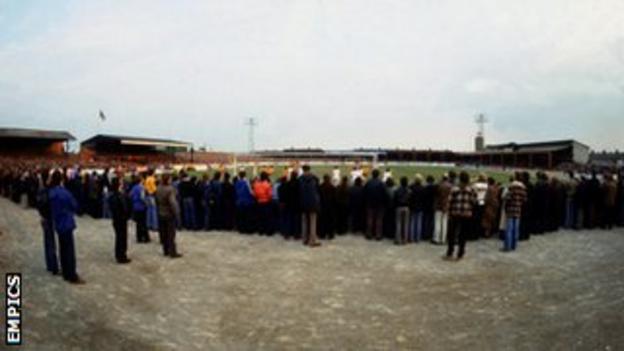 A full case was heard at London's High Court the following April and Newport and their fellow exiles successfully won their restraint of trade case against the FAW.
Now back in Wales and playing at Spytty Park, Newport made steady progress up the English pyramid system.
Reorganisation of the English non-league system placed them in the newly formed Conference South in 2004.
Six seasons later, under the guidance of Dean Holdsworth, they achieved promotion as champions to the Blue Square Bet Premier in 2010.
Newport finished ninth in their first season but found the second season a struggle.
But with former Tottenham defender Justin Edinburgh at the helm, Newport survived and also reached a Wembley final for the first time in their history.
County lost on that occasion to York City in the FA Trophy, but they return to the home of English football on Sunday with an even greater prize at stake, the dream Hando and others had when Newport AFC was formed in 1989.
"It's what we've been working for, for a quarter of a century," Hando said.
"All credit to Justin, he's gathered a team that took us from the verge of relegation to the verge of promotion to the Football League.
"I've got the greatest respect for Wrexham both as a club, who have been through problems as ourselves, and as a team.
"Andy Morrell's got a good bunch of lads there but I think we've just got the edge. We'll do it and Football League here we come."