Alan Pardew: Newcastle United boss denies rift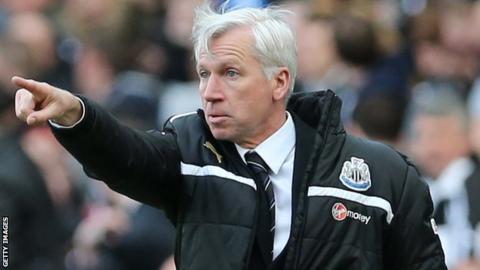 Newcastle manager Alan Pardew insists any rumours of a rift in the squad are untrue and "conspiracy theories".
Reports suggested a falling out amongst the squad after a 6-0 loss to Liverpool but players Papiss Cisse and Cheick Tiote have denied any problems.
"As far as I am concerned, the group is very much together, pulling together trying to get a result," Pardew said.
"The fact that we have a lot of French players has been torn up and made to be something else. There is no problem."
He added: "There have not been words that were out of tone or were in a different place. We talked about football, what it is about and how important it is to this football club to get a win quickly.
"I think everyone is focused on that. Some of the reporting has been terrible really, but there is nothing we can do about it.
"We can't stop it. When you get a result like that people are looking for all sorts of conspiracy theories. The truth of it is that we are where we are because we have not been good enough, particularly away from home."
Seven French players, five of whom were signed in January, played in the heavy Liverpool home defeat on Saturday and the recent 3-0 derby loss to Sunderland.
And Pardew has defended his new signings: "Some of the criticism of the French group has been so unfair on them. The only thing that they lack is experience in the division and the intensity has caught them out.
"I'll be the first to admit that the January signings have been poor in some games but they've been magnificent in others and unfortunately it's that consistency you have to gain. We don't need more fight or more passion, just to use the experience they've gained and put it to good use.
"They're motivated, sometimes over-motivated and they make mistakes. I could give you an example of Cheick who was desperate to win on Saturday and made a couple of errors in trying to get a win for us on his own - it doesn't work like that.
"That's the sort of inexperience we have. The young left-back [Massaido Haidara] bombs forward at 3-0 because he thinks that's what he needs to do to influence the game.
"I am confident they can get us the points they need."
Newcastle are one place above the relegation zone - five points above Wigan having played a game more. And Pardew, who brings the Magpies to former side West Ham on Saturday, hopes his side can find the spirit of Wigan in previous seasons to stay in the division.
"Because West Ham are safe there's no real pressure on them," he said. "This is the time of year when you're fighting for your life and you really need a win, the form book can go out of the window.
"Wigan have proved that many times and that's what we've got to do."