Conference play-off final: Wrexham's lofty ambitions
By Aled Williams
BBC Wales Sport
Last updated on .From the section Football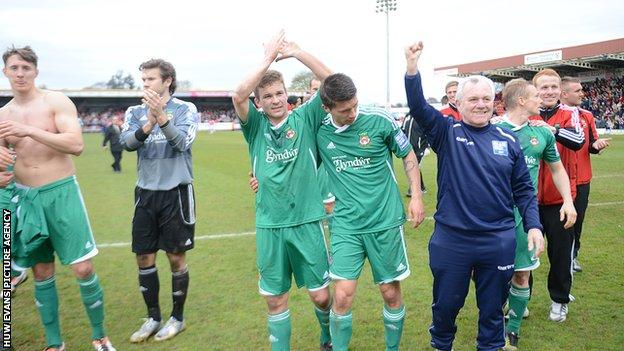 At the end of the new millennium's first season, it was Wrexham rather than Swansea City or Cardiff City, who were Wales' highest placed club in the English system.
While Cardiff and Swansea will face each other in the Premier League next season, Wrexham would be happy with life in League Two.
They will secure a return to the Football League after an absence of five years if they beat Newport County in the Blue Square Bet Premier play-off final at Wembley on Sunday.
And with the Supporters' Trust now running the club after a turbulent decade, Wrexham hope a return to the Football League would be the start of a bright new era.
"We have ambitions of being a Championship football club," chief executive Don Bircham told BBC Wales Sport.
"There's no intention from our point of view to sit in the lowest level of the Football League. We want to progress.
"We've seen what Swansea have achieved with a good solid foundation, a well-run professional business off the field and a great bunch of players and management on the field.
"It's a step at a time. The club nearly went out of business a couple of years ago so we've made amazing progress to be where we are.
"We talk a lot about Wrexham being a Football League club, but you've got to earn that. It was our own fault we dropped out and now we've got to get back up.
"Promotion will mean everything for the community. It will show that we've turned the club around both on and off the field."
Former manager Dixie McNeil says a return to the Football League is no more than Wrexham deserve after the efforts of supporters in saving the club in 2011.
Fans raised £100,000 in seven hours to ensure the club had the funds to fulfil their league fixtures at the start of the 2011/2012 season.
One fan offered the deeds to his home to help the club raise a £250,000 bond, another supporter in Canada wired £10,000, while a young fan gave £35 of his pocket money.
"At one stage everybody thought the club might go under," said McNeil, a former striker who managed Wrexham between 1985 and 1989.
"But the board have done brilliantly and the fans, as always at Wrexham, rallied round the club offering money.
"Wrexham deserve to get into this final. In the last two seasons we got beaten in the semi-finals so hopefully we can pull it off this weekend and get back into the Football League."
Andy Morrell's side have reached the final after losing to Luton Town in the semi-finals in the previous two seasons.
McNeil experienced play-off disappointment during his time in charge at the Wrexham.
The Football League play-offs were still in their infancy when Wrexham reached the Division Four play-off final in 1989 with a 5-1 aggregate victory over Scunthorpe United in the semi-finals.
Victory secured Wrexham a two-legged final against Leyton Orient and although the first leg ended goalless at the Racecourse, their promotion hopes ended with a 2-1 defeat at Brisbane Road.
"To get to the final is great but winning it is obviously the way to go up," added McNeil, who covers Wrexham games in his role as a pundit for BBC Radio Wales.
"We played Leyton Orient home and away and I think it was the last one before the finals were played at Wembley.
"We played Scunthorpe United in the semi-finals and when we beat them away I remember their manager said to me he'd probably get the sack in the morning, which he did.
"I have to say of all the games I managed, Leyton Orient was the worst because it was a horrible feeling to get beaten. It was a long journey home, and I mean a long journey home.
"We had played ever so well against Leyton Orient, who were probably the favourites to go up.
"I think in those days away goals counted and I think it was Jim Steel who hit the ball, which hit one of their players on the goal line.
"You always look back and say if we'd have drawn 2-2 we would probably have gone through on away goals.
"It's all ifs and buts and maybes and I just hope Wrexham get it done in 90 minutes on Sunday."
McNeil was manager of Wrexham at a time when Welsh rivals Newport County were still a Football League club.
He acknowledges the problems Newport have overcome to be on the brink of a Football League return.
"I remember playing at Newport when there was a speedway circuit around the outside of the pitch and the corner flags were put on a board and grass put on top of the board to make the pitch up," McNeil said.
"They've had their ups and downs as well.
"These are two good Welsh clubs that are recovering and both have done brilliantly to get to the final. The sad part about it is that one Welsh club has to suffer."