Aston Villa: Christian Benteke is a monster - Delph
By Ged Scott
BBC Midlands Sport
Last updated on .From the section Football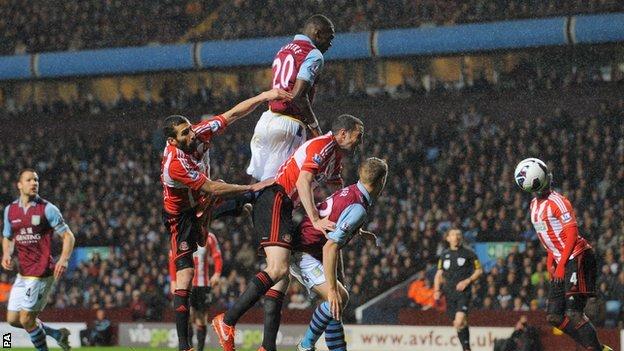 Christian Benteke is the big "monster" scaring Aston Villa's Premier League relegation rivals into submission, says his team-mate Fabian Delph.
Benteke's hat-trick in Monday night's 6-1 win over Sunderland lifted Villa five points clear of the drop zone.
Delph believes that top-flight defences are simply struggling to handle the 6ft 3in Belgian striker.
"He's an absolute monster. Everyone's tried to rough him up but they've all failed," Delph told BBC Sport.
"I asked him when he came: 'Do you eat raw meat?'. But the reality is he's just a natural monster.
"For his header against Sunderland, he jumped as high as the crossbar. It looked like he'd got wings. If he'd hit the crossbar, then I'd feel sorry for the crossbar.
"He doesn't do any upper body weights. All he does is just work on his calf strength and his upper legs.
"I remember when I first came to Villa, John Carew was very strong. But Christian's only 22 and John Carew was a bit older than that.
"Not just that, but his work rate is fantastic and he makes scoring goals look so easy."
Benteke's treble against the Black Cats took his league tally this season to 18 goals, the best return by a Villa player in 21 years of Premier League football.
And Villa midfielder Delph also believes the 22-year-old would have been a worthy winner of the Professional Football Association's Young Player of the Year award, in which he finished runner-up to Tottenham's Gareth Bale on Sunday night.
"He's dragged us through so many games I was actually quite surprised that he didn't win Young Player of the Year," added Delph.
"And Christian looks like he's not finished yet. I could certainly put a bet on him to get three or four more this season."
Villa have now won four of their last seven matches - Benteke scoring in each of the victories - to edge five points clear of danger in the Premier League.
And the fearless fashion in which they played on Monday is an endorsement of what manager Paul Lambert has tried to create, and why the Villa fans have stayed with him and the team in his first season at Villa Park.
"We're young, we've got fire in our bellies and we're not really feeling that much pressure," added Delph.
"We're going out there and enjoying it. The teams around us will be thinking: 'We didn't expect that'.
"It seems to be coming together and we've picked up some form.
"We've got Norwich next and all we'll be looking to try to do is go there and do a similar job.
"We're not looking too far ahead. But, if we do see out this season, with the experience we've gained, then next season we've got to be more comfortable than we have been."
The only slight cloud to darken what are suddenly looking far clearer skies ahead for Villa is the thought that, even though Benteke still has three years left on the contract he signed when he arrived for £7m from Belgian side Genk last summer, he may yet be the subject of the sort of offer no club could turn down.
But Delph insists that being part of Lambert's Villa family will prove too strong a bond.
"I know from the outside it must look like a creche, full of kids," he said.
"But we're like a family here. We're all mature boys who live good clean lives. There's no egos in the dressing room.
"He's happy here. And, if we manage to keep him, we can build around him."