Champions League: Dortmund are underdogs, says Jurgen Klopp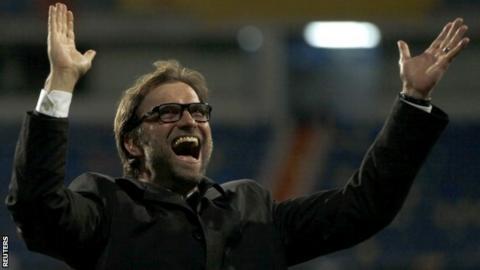 Borussia Dortmund coach Jurgen Klopp says his side will be underdogs in the Champions League final, whoever they face at Wembley on 25 May.
Klopp's side beat Real Madrid 4-3 on aggregate in their semi-final despite losing 2-0 at the Bernabeu on Tuesday.
Dortmund will play either Bayern Munich or Barcelona in the final.
"Wembley will be one of the greatest moments in our lives," Klopp said. "But, whichever team we meet, we will not be the favourite."
Bayern look likely to set up an all-German clash in London next month, holding a 4-0 lead over Barca going into Wednesday's second leg.
Dortmund are currently 20 points behind Bayern in the Bundesliga table but Klopp says his side are capable of continuing their remarkable European run even if they do face their old rivals.
"In Wembley everyone will see we are not going to be satisfied with just being a finalist," he added.
Dortmund demolished Real 4-1 in the first leg of their tie last week but had to survive a tense finish after Real scored twice in the last 10 minutes on Tuesday.
A third goal for the Spanish side would have sent them through instead and Klopp added: "It was a bit dramatic in the end.
"The 90 minutes felt quite long today - we played well at times but unfortunately not for the entire game. Obviously Madrid are capable of playing quality football of their own.
"They had a lot to make up for after the first leg, but in the end we deserved to go through on aggregate. We deserve to be in the final."
Dortmund chairman Hans-Joachim Watzke admitted he could not bear to watch as his side hung on.
Watzke said: "That was the first time in my life I had to stop watching, because I feared my heart couldn't take it anymore.
"I locked myself in the toilet and covered my ears. I didn't hear the stadium erupt again, so I returned with a minute left to play. We have a certain knack for dramatic endings."